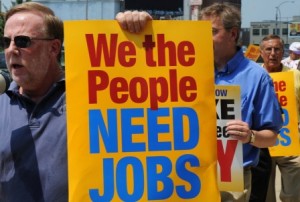 In case you missed my last piece, I'm posting a new series as part of the Where's the Work? initiative that's focused on getting past the statistics that dominate coverage of the unemployment crisis and putting our attention back where it needs to be–on the real Rhode Islanders facing real challenges as they try to weather this Great Recession.
Our second story comes from Richard, who lives in the West End neighborhood of Providence.
Richard Herranen has been working in human services for more than 20 years, most recently at the Urban League of Rhode Island, where he did HIV prevention programming. Richard, who has a master's degree and is credentialed and licensed in substance abuse treatment, loved his job. And he was good at it. But when funding from the Center for Disease Control dried up, he found himself unemployed at the age of 69.
After losing his job, Richard underwent some serious health problems and spent a difficult year recovering. But now he's healthy again, and has been looking for work for the past thirteen months. He's applied for every position he could find in his old fields, but so far has had little success. "I've had a few interviews," he says, "but nothing ever materialized. That's the most frustrating part. You go in for the interview, and then you never hear a word."
Richard is convinced it's a question of age. "I've gotten roundabout feedback from colleagues. 'He's just too old,' they say. I just turned 71." But Richard is physically, mentally, and intellectually fit. And he loves working. "I'm not ready to quit working. Even if my wife and I were well enough off that we could afford to retire, I would still want to work. I'm younger than Jerry Brown. I'm about the same age as Bob Dylan and Mick Jagger and Paul McCartney. And they're all very active and doing well at their respective professions." He understands that some agencies are reluctant to hire older people because they do not want to invest in training for an employee who might be retiring soon. But Richard already knows the field very well. "The positions I've interviewed for, I'd hardly require any training at all."
Richard has also looked at part-time work. "Even the somewhat lower-paying jobs are attractive," he says. "I've applied to work at Starbucks. Whole Foods. To work on the ferry to Martha's Vineyard. I even thought about joining the Peace Corps, but I couldn't leave my wife Barbara and our black lab Sophie."
For now, Richard is committed to continuing the search. He got his last unemployment check two weeks ago, so he now has no income but Social Security. "We had money invested, but like most people we took a hell of a big hit when the recession started. Still taking a big hit." He shakes his head. "I never thought it'd be this difficult to find work."
Where's the Work? is an initiative of the Ocean State Action Fund. You can share your own unemployment story  or ask your elected officials to listen to Rhode Island's unemployed workers by clicking here.
Stories from Rhode Island's Unemployment Crisis II

,