In one of Bernie Sanders's most powerful and moving endorsements, Erica Garner explains how she became an activist after her father was murdered by the NYPD. She explains how she felt compelled to stand up for the rights of those who feel intimidated, persecuted, and oppressed by systemic racism in law enforcement. She explains how she came to believe in a leader like Bernie Sanders because he, like her and many of those she admires, was a protestor and an activist who fought for justice.
Today, that same justice is on the line in voting booths and caucuses across the nation. The sun has risen on Super Tuesday, a day which may historically become a referendum on the nature of American democracy. At sunrise, tireless volunteers of the Sanders campaign will distribute literature to doors across the country before commencing the final round of canvassing for the last Get Out The Vote effort. Bill Clinton will speak in New Bedford later in the day, but fortunately, we've already covered the whole city, which is feelin' the Bern. I wouldn't be surprised if the majority of those in attendance for his speech will vote for Sanders; even some of Hillary's canvassers will.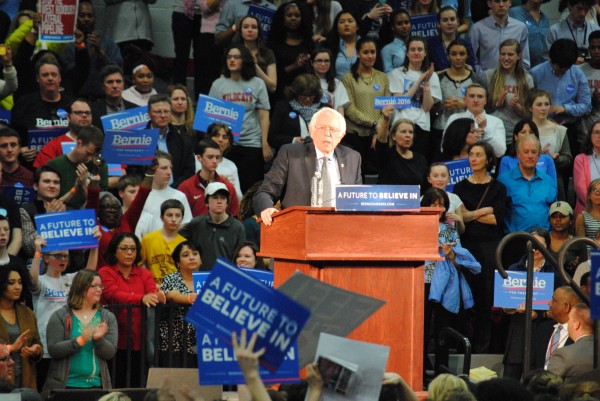 But the race is tight in Massachusetts, and in many of the other states that Sanders has focused on winning today. It would seem that the sinister rise of Trump is beginning to intimidate voters into supporting Clinton, an establishment candidate that is widely, and falsely, believed to be the best chance at defeating him in a general election, even though Sanders has the best numbers against him. And I believe that Sanders's campaign is still nascent, still growing, and his declared commitment to not stop running until all 50 states have voted, a declaration made after raising $6 million in a day, will build permanent momentum in his base with a clear goal in mind: to win the Democratic nomination.
However, such a win is not necessary to validate Sanders's revolution. It has already received its validation by those who support it. His campaign is one of activists, ranging from volunteer organizers and leaders to canvassers and phone bankers to the Bernie fanatics waving signs and marching in the streets across the nation. We have been spurred into action by his candidacy and we do not plan to stop. His staffers, even though they are paid, carry the same fire and dedication that the activists and volunteers do. They, and we, all of us, are dedicated to a cause, and that is to reclaim American democracy.
Much is at stake today and in the coming weeks. The media establishment is already touting Clinton as the front-runner, that she is simply moving beyond Sanders and seeking to pad her lead. And it is quite possible that Sanders will falter today, and though we have yet to see, his voters do have a chance to make history by choosing to vote for a government that is truly representative of the people. To vote for a candidate that seeks to restore our democracy is an act of courage in the face of the hate-mongering of Trump or the unfair and unethical corporate sponsorship of the Clinton campaign.
Today, let us stand together as activist voters who will fight for economic and social justice. Let us stand together as brothers and sisters across races and religions in the face of the hate that seeks to divide us. Let us be courageous today and cast that vote for Bernie Sanders, the sole candidate who will fight for our democracy. And in the words of that candidate, "When we stand together and demand that this country work for all of us, rather than the few, we will transform America."
Win or loss, we have already begun that transformation.
Read more from Chris Dollard on Bernie Sanders' campaign.
Super Tuesday: Bernie Sanders' activist campaign

,