Browse:
Home
/
buy nothing day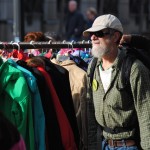 By Greg Gerritt on November 20, 2016
On November 25 for the 20th time, Rhode Islanders from all walks of life will gather at locations from Cumberland to Newport, from the State House, to South Kingstown and many places in between including most of the facilities of the Greater Providence YMCA to make sure that Rhode Islanders have warm winter coats this year.
Posted in Activism, Corporate Greed, Events, Featured, Homelessness, Inequality, News, Poverty, Rhode Island | Tagged buy nothing day, Buy Nothing Day Winter Coat Exchange, greg gerritt | 1 Response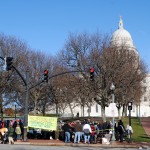 By Steve Ahlquist on November 28, 2014
The idea is simple: give away donated coats to people who need them, while at the same time challenging the consumerism that marks Black Friday, an annual sales frenzy fomented by big box and mall retailers the day after Thanksgiving. The Buy Nothing Day Coat Exchange, set up on the lawn of the State House, acts as a conscience and counterpoint to the sales driven capitalism inside the Providence Place Mall.
Posted in Activism, Class Warfare, Corporate Greed, Economics, Events, Featured, Holidays | Tagged black friday, buy nothing day, greg gerritt, winter coat exchange | 1 Response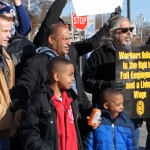 By Steve Ahlquist on November 29, 2013
Members of Occupy Providence, supported by the International Union of Painters and Allied Trades, along with representatives from a wide range of progressive groups such as DARE, the Progressive Democrats of Rhode Island and others, gathered at the entrance to the Walmart on 51 Silver Spring St in Providence to demand living wages for workers […]
Posted in Activism, Economics, Featured | Tagged black friday, buy nothing day, International Union of Painters and Allied Trades, Occupy Providence, ri prog dems, walmart | 1 Response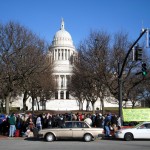 By Steve Ahlquist on November 29, 2013
When Greg Gerritt first started giving away free winter coats to the needy on the mall side of the Rhode Island State House, he was hoping to hand it off to someone else for year two, but when no one stepped up, he found himself running it again, and again. Now seventeen years later, Gerritt […]
Posted in Events, Featured | Tagged buy nothing day, greg gerritt, winter coat exchange | 2 Responses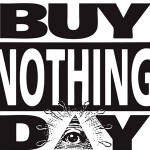 By Greg Gerritt on November 22, 2012
The 16th Annual Buy Nothing Day Winter Coat Exchange will take place at 9 locations in Rhode Island on Friday November 23.  Winter Coats will be given away starting at 9 or 10 AM at locations in Bristol, Cranston, East Providence, Newport, North Kingstown, Pawtucket, Providence, Wakefield, and Warwick. In the age of Wall St […]
Posted in Events, Featured | Tagged black friday, buy nothing day, thanksgiving | 1 Response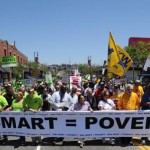 By Bob Plain on November 19, 2012
Black Friday, America's annual homage to rampant consumerism, is not only the day after Thanksgiving, it's also the perfect enemy of the day we give thanks to all the things that really matter in life: family, health and harvest. Conversely, Black Friday celebrates stuff we don't need, and so often shows just how ugly we […]
Posted in Economics, Featured | Tagged black friday, buy nothing day, Labor, thanksgiving, walmart | 3 Responses
By Greg Gerritt on November 9, 2012
Every year I write an essay on the spirit of the Buy Nothing Day Winter Coat Exchange and how to heal the economy, ecosystem, and communities of Rhode Island using the principles of use less, share more.  Often I dedicate the essay to those trying to end poverty, war, or planetary destruction, or in jest […]
Posted in Featured | Tagged buy nothing day, Rhode Island Foundation | 5 Responses