Browse:
Home
/
Doreen Costa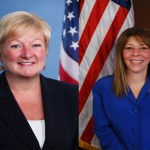 By Bob Plain on April 18, 2016
Democrat Julie Casimiro is again challenging Republican Rep. Doreen Costa for the District 31 House seat in North Kingstown, RI Future has learned. Casimiro lost to Costa in 2014 53.1 percent to 46.8 percent. "Running again was not part of my plan as my family commitments have been exhausting, but the groundswell of support for […]
Posted in Campaign 2016, Elections, Featured | Tagged district 31, Doreen Costa, julie casimiro, north kingstown, state house | Leave a response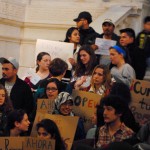 By Steve Ahlquist on March 16, 2016
Two competing bills were heard in the House Judiciary Committee meeting Tuesday evening in a hearing that lasted well over 6 hours and had over 4 dozen people testifying. House bill 7610, submitted by Representative Anastasia Williams, would grant driving privilege license to undocumented immigrants. House Bill 7859, introduced by Representative Arthur Corvese, would make […]
Posted in Activism, Civil Rights / Liberties, Class Warfare, Events, Featured, Immigration, Labor, News, Race & Racism, Rhode Island, State House, Video | Tagged Anastasia Williams, Arthur Corvese, Doreen Costa, driver's licenses, fair, Federation for American Immigration Reform, Gina Raimondo, james diossa, jorge elorza, Joseph Almeida, riile, Robert Nardolillo, Southern Poverty Law Foundation, SPLC, terry gorman, Undocumented Immigrants | 1 Response
By Steve Ahlquist on July 14, 2015
The RI House of Representatives floor debate on the tipped minimum wage featuring Representatives Joseph Shekarchi, Doreen Costa, Patricia Morgan, Aaron Regunberg, Michael Chippendale, Antonio Giarrusso, Teresa Tanzi and John DeSimone.
Posted in Class Warfare, corporate greed, Democrats, Featured, Labor, National News, News, Politics, Republicans, Rhode Island, State House, Video | Tagged aaron regunberg, Antonio Giarrusso, Doreen Costa, John DeSimone, Joseph Shekarchi, Michael Chippendale, patricia morgan, Teresa Tanzi, tipped minimum wage | 2 Responses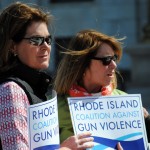 By Steve Ahlquist on April 17, 2015
Over 350 people in support of the Rally Against Gun Violence at the State house Thursday afternoon. The event was organized by the Rhode Island Coalition Against Gun Violence (RICAGV), made up of over 60 groups representing 100,000 Rhode Islanders.
Posted in Activism, Criminal Justice, Featured, Gun Control, State House | Tagged Bishop Knisely, Doreen Costa, Extraordinary Rendition Band, Institute for the Study and Practice of Nonviolence, james diossa, jorge elorza, Julia Wyman, Myra Latimer-Nichols, newtown, NRA, Rally Against Gun Violence, Rhode Island Coalition Against Gun Violence, Sheryl Albright, Sisters Overcoming Abusive Relationships, Steven Pare, Teny Gross, Wendy Bowen | 4 Responses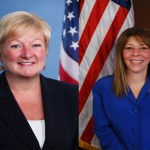 By Bob Plain on October 21, 2014
Rep. Doreen Costa is too conservative for North Kingstown Town Council President Liz Dolan, a Republican who endorsed Democrat Julie Casimiro for the House District 31 seat. But Costa's conservative credentials didn't stop the local fire fighters' union from throwing their support behind the tea party right-winger who sponsored a right-to-work bill in the state […]
Posted in Campaign 2014, Featured, State House | Tagged district 31, Doreen Costa, julie casimiro, north kingstown, state house | 6 Responses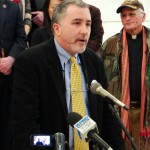 By Steve Ahlquist on March 19, 2014
Teny Gross, Executive Director of the Institute for the Study & Practice of Nonviolence, did not pull any punches yesterday as he spoke to a crowd gathered under the dome of the Rhode Island State House about class, race and gun violence. Guns are the leading cause of death for young black men and it's […]
Posted in Featured, Gun Control | Tagged Doreen Costa, gun control, institute for study and practice of nonviolence, state house, teny oded gross | 2 Responses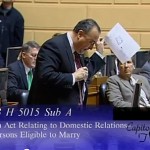 By Bob Plain on February 7, 2013
Some people think DINOs are Democrats who tend to be less than liberal. Not in the Ocean State. Here in Republican-rejecting Rhode Island, Democrat in Name Only literally means those cunning and conservative politicians who are Democrats only in name. But don't take it from me … that's what Rhode Island Republican Ann Clanton told […]
Posted in Featured, Politics | Tagged ann clanton, dawson hodgson, dino, doc corvense, Doreen Costa | 2 Responses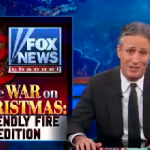 By Bob Plain on December 4, 2012
Sometimes only the court jester can successfully call out the king for wearing no clothes. While Fox News, John DePetro, Bishop Tobin and Rep. Doreen Costa are hardly still royalty in post-tea party America, John Stewart can still shed some sanity on their completely fabricated and self-indulgent "war on Christmas." After all, I'm certain the […]
Posted in Religion | Tagged christmas, daily show, depetro, Doreen Costa, fox news, Holiday Tree | 27 Responses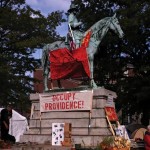 By Russ Conway on February 6, 2012
Occupy Providence has the fringe-right all in a tizzy over an incident in which condoms were dropped on a anti-choice rally at the State House, spawning not one but two diaries calling for criminal charges to protect the religious right from the inconvenience of being confronted with opposing views. Here's Justin nearly hyperventilating over a […]
Posted in Civil Rights / Liberties, State House | Tagged Anchor Rising, Civil Liberties, Doreen Costa, Occupy Providence, Pro-Choice | 18 Responses
By Bruce Reilly on August 26, 2011
Someone please give me notice if Rep. Costa's "Paying More For TANF" bill makes it to a hearing next spring, because that should be a fun one.  As I pointed out in a prior post, drug testing mothers on assistance may feel good to some, but its not getting anyone "off welfare" in any productive […]
Posted in Republicans | Tagged Doreen Costa, Drug Testing, Drugs, TANF | Leave a response