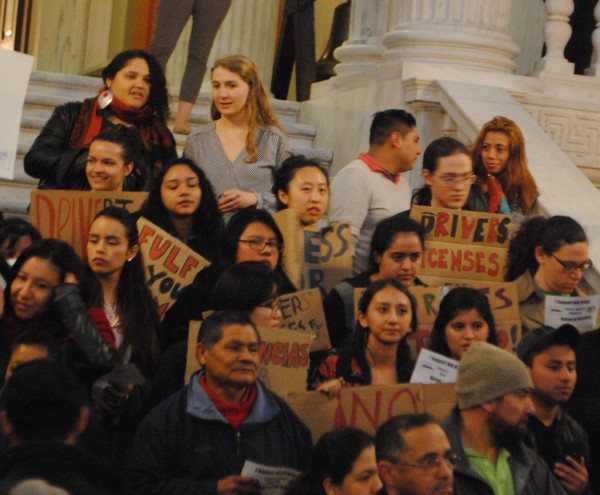 Two competing bills were heard in the House Judiciary Committee meeting Tuesday evening in a hearing that lasted well over 6 hours and had over 4 dozen people testifying. House bill 7610, submitted by Representative Anastasia Williams, would grant driving privilege license to undocumented immigrants. House Bill 7859, introduced by Representative Arthur Corvese, would make issuing such licenses illegal. Over 200 advocates for licenses filled the main rotunda with reverberating chants during the hearing, which was often emotional and contentious.
This became evident immediately as Reps Williams and Corvese verbally sparred even before presenting their bills, which were heard simultaneously. Committee Chair Cale Keable worked hard to keep the peace, and surprisingly did not put a cap on speaking times, allowing people to speak until they were done.
Both bills have been held for further study, and the ultimate fate of the bills is in doubt. Governor Gina Raimondo has indicated that she wants a bill allowing driver's licenses for undocumented immigrants to be passed and that she is ready to sign such a bill. She made a campaign promise to issue an executive order granting such licenses within her first year in office, a promise she has broken in favor of a legislative solution.
Below is all the testimony presented during the hearing last night, each speaker given a separate video. For the purposes of time it is impossible for me to do justice to all the wonderful testimony given in support of allowing undocumented immigrants driver's licenses, just as it is impossible for me to get into some of the racism and xenophobia presented by the other side. Hopefully, the occasional notes I've provided below can point people towards some of the testimony I found the most interesting.
Rep Doreen Costa, vice-chair of the House Judiciary Committee, told Corvese that he had presented a "great bill."
Rep Joseph Almeida took Corvese to task for using the term "sanctuary city" in reference to Providence. Corvese responded that, "I do not countenance political correctness," said Corvese, "and I never have."
Mayors Jorge Elorza of Providence and James Diossa of Central Falls both spoke in favor of licenses for undocumented immigrants.
Rep Robert Nardolillo, who quoted FAIR, (Federation for American Immigration Reform) in his Providence Journal op-ed, did not exactly do himself any favors by testifying. FAIR has been identified by the Southern Poverty Law Foundation as a hate group. At one point Nardolillo seemed to imply that immigrants were more likely to drive without insurance that non-immigrants. Here's a quote from the founder of FAIR for Nardolillo and others to ponder:
"As Whites see their power and control over their lives declining, will they simply go quietly into the night? Or will there be an explosion?"
— John Tanton, founder of FAIR
Terry Gorman, of RIILE, lists FAIR on its links page. They also list the Minuteman Project and American Border Patrol, also listed as "extremist nativist groups" by the SPLC. I don't know how RIILE avoids being on the SPLC hate group list.
Full video: House hears testimony over driver's licenses for undocumented immigrants

,