There should be an interesting twist to this year's St. Patrick's Day celebrations in Providence.
The NCAA's March Madness basketball extravaganza tips off in the Capital City on March 17 featuring eight very diverse teams. So there will be quite a few foreigners – as we should and will regard them ­- wandering the streets and undoubtedly getting a skinful on St. Paddy's Day.  Smile, treat 'em nice, and just enjoy the free sideshow by basketball fans exploring the eccentricities of Little Rhody. They are legion.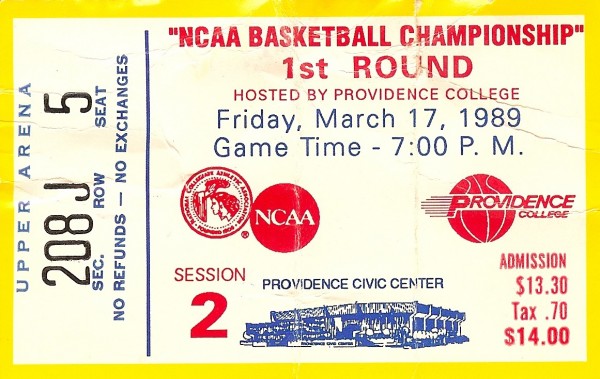 But this isn't the first time the NCAA tournament and St. Patrick's Day came crashing together in Providence, Rhode Island. The last time was 1989, and it turned out to be the show of all shows.
Notre Dame played Vanderbilt in the nightcap of a doubleheader that day. When you have a team named the Fighting Irish playing in any kind of competition on St. Patrick's Day, it exponentially ratchets up the amount of drinking that will be done by the sons and daughters of The Auld Sod, as well as those pretenders to the breed who annoyingly use Irish accents for a day.  (Just stop it! Stop it now!)
So the streets of Providence that day were teeming with Ireland-affiliated men and women and the tag-alongs. Kind of like "The Walking Shitfaced."  I don't think I've ever seen that many drunks being readily accepted in public as a whole, and I worked in midtown Manhattan on St. Patrick's Day for a few years.  Nuf sed.
But inside Civic Center, one of the most memorable games in NCAA history was being played, and we got a perhaps not-so-nice slice of American culture.  Princeton, the lowest (#16) seed in the region, was playing Georgetown, the #1 seed.  A #16 had never beaten a #1 in tournament history. It would take a miracle.
Georgetown then was the NWA of college hoops. Led by its gigantic and intimidating black coach, John Thompson (a PC grad and former b-ball star here), his team was full of in-your-face, talk-shit-take-none bruisers with a reputation for a defense that strictly took names and kicked ass, with an essentially all black cast.
Princeton had a coach named Pete Carril, as tiny as Thompson was imposing, a kind of basketball Yoda, although the way he danced around on the sidelines that day made you think more of a leprechaun.  His team of "smart," virtually all white players essentially gave clinics on how the game of basketball should be played.
Problem was, Princeton took control of the game and made Georgetown look shambolic.  Running plays that would have made a drill sergeant proud, the Tigers took their time and just kept putting points on the board, as the crowd went crazy.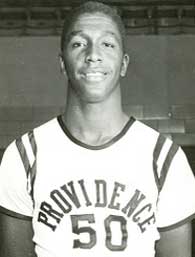 As Princeton neared the biggest March Madness upset of all time, the Civic Center became louder than I have ever heard it.  Anyone who wasn't a Georgetown fan, which meant most of the 10,000-plus on hand, was rooting for Princeton.  Part of it was because local PC fans detested Georgetown, but for the neutrals, not only was it an abiding love of the underdog, but it was those wonderful, cerebral white kids outsmarting their fierce and frightening black opponents. You didn't need to be Cornel West or Donald Trump to figure that one out, however distasteful.  Ah, nice to know we have come so far.
At any rate, Georgetown's only lead was taken on what was to be their final basket, to go ahead 50-49.  Princeton had two shots left with less than 10 seconds to win it, but the first was blocked out of bounds.  Princeton's second shot was a) deflected by Mourning as Princeton's Kit Mueller shot; or b) Mourning hit Mueller on the wrist as he shot, which would have given Mueller two potentially game-winning free throws.  Due to this non-call, Georgetown and the refs were booed off the court as loudly as the dreamers and hopers and perhaps darker thinkers in the crowd could muster.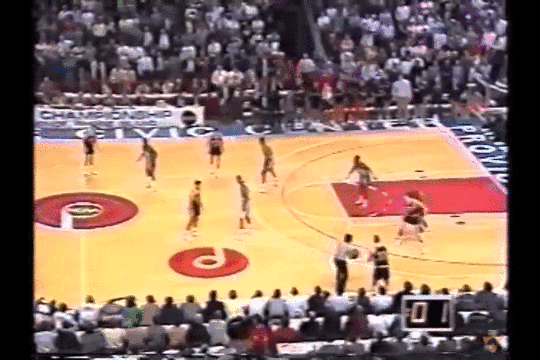 And maybe only an old snake charmer like St. Patrick could appreciate what happened in the not so far future, for any number of reasons that make you feel better:  John Thompson's son went on to play college basketball…at Princeton…for Pete Carril.  Were everything so nice.
On The Ball And Off The Wall is an occasional sports column by Chip Young, a Rhode Island journalist who was a sportswriter and broadcaster for 25 years. Best known as Phillipe, of Phillipe and Jorge's Cool, Cool World, Young was also an All-America soccer player in college, he is in the Brown Athletic Hall of Fame. Today he takes a look at one of the most near-famous basketball games ever played in Rhode Island.