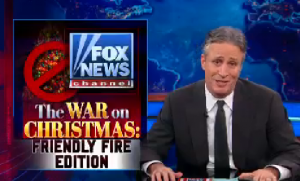 Sometimes only the court jester can successfully call out the king for wearing no clothes. While Fox News, John DePetro, Bishop Tobin and Rep. Doreen Costa are hardly still royalty in post-tea party America, John Stewart can still shed some sanity on their completely fabricated and self-indulgent "war on Christmas."
After all, I'm certain the vast majority of us agree this annual holiday assault from the right has more comedic value than cultural. Watch the very funny and insightful Daily Show segment here:
Doreen Costa, the last elected member of the tea party standing in the Rhode Island, was even featured in the Daily Show segment. Stewart pulls a clip of a Fox News personality asking Costa if they are "nuts" for thinking there is a war on Christmas.
Stewart's response: "As a general rule, if you are trying to tell if you and one other person are nuts, ask a third person. Preferably someone from outside the asylum."
Stewart's talent is offering up social truisms in the form of jokes. Such as:
Yes you are fucking nuts. Because for whatever annoying, local ticky-tack Christmas-abolishing story you and your merry band of persecution-seeking researches can scour the wires to turn up the rest of can't swing a dead elf without knocking over a inflatable snow globe or a giant blinking candy cane.

For God's sakes, Fox News itself is located in midtown Manhattan, the epicenter of all that is godless, secular, gay, jewy and hell-bound and, yet, even here, all around your studio, it looks like Santa's balls exploded.
He goes on to enumerate just a few of the ways in which Christmas completely dominates the month of December in our society.
Even at the Rhode Island State House there are no fewer than 12 manger scenes on display, I was told yesterday by someone who works there (I'll try to get some pictures of them all later today). But one tree doesn't contain the word Christmas and the religious right declares war.
That is a joke.
Daily Show Declares 'War on Christmas' a Joke

,