Browse:
Home
/
hotel workers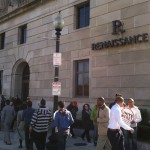 By Bob Plain on April 21, 2015
Providence College students and faculty plan to leaflet campus tomorrow to draw attention to the school's continued relationship with the Renaissance Hotel, one of the downtown hotels engaged in a bitter labor dispute with employees trying to unionize and win better wages. "Consistent with our social values, the group wants PC to refrain from doing […]
Posted in Featured, Labor | Tagged City of Providence, hotel, hotel workers, Labor, procaccanti group, Providence, renaissance, renaissance hotel | 7 Responses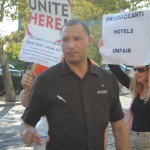 By Steve Ahlquist on December 15, 2014
The unhealthy work environment at the Renaissance, combined with the shock of losing his job and the combative atmosphere in the manager's office drove Cruz to the breaking point. Cruz suffered a heart attack, and Renaissance management called a rescue to take him to the hospital.
Posted in Class Warfare, Featured, Labor, People | Tagged fight for 15, hotel workers, Marino Cruz, Procaccianti Group, Providence Renaissance, unite here 217 | 3 Responses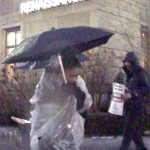 By Steve Ahlquist on December 9, 2014
Just under thirty people marched and chanted Tuesday afternoon in the pouring rain outside the Renaissance Providence Hotel to protest the suspension, pending termination, of Marino Cruz and Veronica Arias, two employees who have helped to lead the campaign to improve working conditions at the hotel.
Posted in Activism, Class Warfare, Corporate Greed, Featured, Labor, Providence | Tagged hotel workers, Labor, procaccianti, Providence, Providence Renaissance, unite here 217 | 5 Responses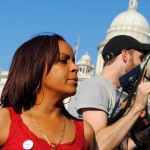 By Steve Ahlquist on August 27, 2014
Every Wednesday women hotel workers and their supporters gather outside the Providence Renaissance and Providence Hilton hotels to demand fair wages and decent working conditions. So far, hotel management has refused to deal fairly.
Posted in Activism, Civil Rights, Class Warfare, Corporate Greed, Featured, Labor, Photos, Providence, Rhode Island, Women | Tagged hotel workers, Providence Hilton, Providence Renaissance, unite here 217 | Leave a response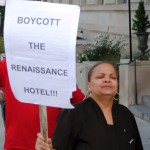 By Steve Ahlquist on August 21, 2014
One of the few bright spots on the Rhode Island economic landscape is tourism, but should our economic successes be built on the backs of women scraping by on minimum wage? Some hotels downtown pay fair wages and are willing to negotiate with their employees about working conditions. The Providence Renaissance Hotel next to the […]
Posted in Activism, Class Warfare, Corporate Greed, Featured, Labor, Photos, Providence | Tagged hilton providence, hotel workers, Providence Renaissance, Tourism, unite here 217 | 3 Responses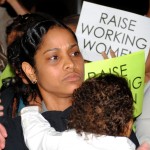 By Steve Ahlquist on June 22, 2014
Though the first round of the Fight for a $15 minimum wage appears to be over, due to the anti-democratic efforts of a right-wing General Assembly more concerned with feathering the beds of the rich and entitled than easing the burden of the poor and disenfranchised, the hotel workers targeted by the Mattiello budget are […]
Posted in Class Warfare, Featured, Labor, Politics, Women | Tagged fight for 15, hotel workers, Labor | Leave a response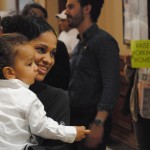 By Steve Ahlquist on June 2, 2014
After last Thursday night's Providence City Council Ordinance Committee meeting in which the proposal to establish a $15 an hour living wage for hotel workers was to be discussed and voted on was cancelled, many of the women and men who made the effort to engage with their government were abandoned in City Hall with […]
Posted in Civil Rights, Labor, Providence, Video, Women | Tagged fight for 15, hotel workers, Providence City Council, renaissance, renaissance hotel, santa brito | 3 Responses