Update: There will be a Rally for Marino 6:30pm Wednesday outside the Renaissance Providence Hotel, 5 Avenue of the Arts, Providence. See the link for details.
---
Marino Cruz, a 35-year-old houseman at the Providence Renaissance Hotel, was called into his manager's office last Wednesday and told that he was being fired.
Cruz objected, and argued with management about the reasons for his termination. "Their story kept changing," he said, "and when they fired me, they accused me of more things. They tried to get me to admit to false things."
The real reason the hotel management wanted him fired, claims Cruz, is because he is a leader in the effort to unionize hotel employees for fair wages and decent working conditions.
The meeting to fire Cruz soon reached a breaking point. "The combination of shock and excitement gave me a small heart attack, so they [the management] called me an ambulance to the hospital," says Cruz.

At Rhode Island Hospital, where PVD emergency services brought him, the doctors found that there was damage to Cruz' heart and they kept him for just over 24 hours, running further tests. Cruz is awaiting the results.
Marino Cruz does not speak much English, and I speak no Spanish, so our interview was conducted with the help of an interpreter. He's worked at the Providence Renaissance Hotel for three years, and has three children. Fortunately for Cruz, his wife's job provides health care for the family.
While he was in still in his hospital bed, two Providence police officers entered with Cruz' wife and presented him with a restraining order from hotel management. He's due in court on December 18. This is why nearly 30 people picketed outside the Renaissance Hotel last Thursday in the pouring rain.
"They're trying to take me out of the fight," said Cruz. A restraining order will keep Cruz off the picket line and away from hotel employees. "I couldn't imagine that they would put me out on the street just for fighting for justice."
He said, "the situation at the hotel is getting uglier." Employees are not only suffering from low wages, excessive workloads and copious injuries, he said, they also suffer "the disrespect of the management" that treats people as replaceable and disposable.
At the Providence Renaissance Hotel, housekeepers, mostly women, are worked hard. They are responsible for cleaning more rooms in a day than housekeepers at other area hotels, and they are paid much less, minimum wage or pennies more. Injuries to the back, shoulders and hands are affecting more than half a dozen workers. Some have rashes on their faces and skin from the harsh chemicals used to clean the rooms. There is "an epidemic of women's bodies just giving out with permanent injuries," Cruz said.
As one of the few leaders of the unionization effort not injured, Cruz has been vocal about these issues in meetings with management. Cruz believes that this is why management decided to target him. When he's punched in, Cruz does his job. When he's off duty, he organizes, pickets and strategizes ways to improve working conditions at the hotel.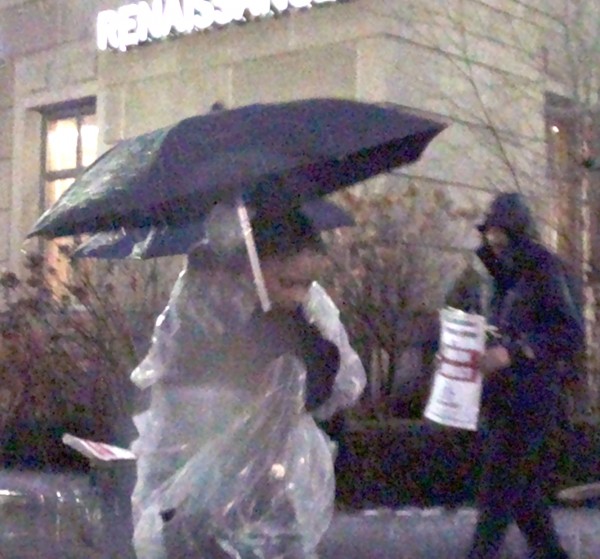 The Providence Renaissance Hotel is run by The Procaccianti Group, which also manages the Providence Hilton. They have a long history of treating employees less than fairly. In March I profiled Adrienne Jones and Krystle Martin, two single moms targeted and fired for their unionization efforts. In May I reported on how the hotel lost its gay-friendly rating. The Procaccianti Group was one of the key lobbyists pushing through the state ban on minimum wage increases by cities and municipalities. The Renaissance is currently being boycotted by those committed to fair wages and working conditions.
---
---
Support Steve Ahlquist!
Renaissance employee suffers heart attack during firing

,