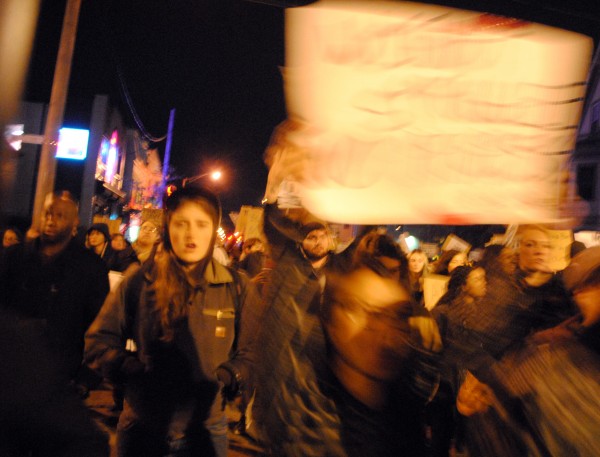 Tess Brown-Lavoie is one of the six people arrested November 25 for allegedly engaging in disorderly conduct on the highway during a Ferguson protest here in Providence. Brown-Lavoie is a farmer and writer in Providence. She serves on the board of the New England Farmers Union, the National Young Farmers Coalition and the Rhode Island Food Policy Council. She  coordinates the Young Farmer Network. This not being enough, she is also the drummer for Mother Tongue.
Though she wouldn't talk about the details of her arrest, Brown-Lavoie agreed to talk to RI Future about why she was at the march and about her views on social justice, race and politics. I hope to have more interviews with some of the other arrested protesters over the next weeks.
RI Future: Thank you for taking the time to answer my questions. So, why were you out protesting that night?
Brown-Lavoie: I went to the protest broadly to be in the street with other people. I went specifically because I was and am angry and frustrated that Mike Brown's death will not be investigated in court, that Darren Wilson will not be tried, and that police violence against black people and people of color is rife and unchecked in this country.
After Prosecutor Bob McCulloch's announcement of Wilson's non-indictment—in which he challenged witnesses' credibility more deeply than Wilson's guilt, and exonerated all police force—I went down sort of a black hole, reading Darren Wilson's blatantly racist testimony, other coverage of the circumstances surrounding Mike Brown's death and various critiques. Twitter helped me identify sources I could trust, without the pervasive racism upon which the logic of mainstream media rests. But after a certain point, consuming articles and opinions in solitude can lead to a really dark place of anger and frustration. I went to the protest in order to physically be with people, and to be loud in the street demanding an end to the racism that undergirds the logic of policing.
RI Future: What motivates you?
Brown-Lavoie: Anger and frustration motivate me in a visceral way, as does my privileged experience as a white person. New examples of oppressive violence—against woman, against people of color, against queer people—become details in an oppressive ethos that we already knew existed. But the details of each story—child victims, toy guns, unarmed, "It looked like a demon," post-mortem character assassination—reveal horrific new dimensions about depth and flagrancy of institutional prejudice, especially by police.
These details are so audacious.
The police tactics and structural racism they reveal are unacceptable. The conditions they establish, under which we live, are intolerable. It is important to me to work to be a participant in the dismantling of these oppressive systems, and I think there are particular roles for white people in demanding justice. Silence from white communities is complicity, and that is motivation to show up, even while privilege allows for powerful inertia.
RI Future: What kind of history/education/experiences have you had that brought you out to the march/rally?
Brown-Lavoie: I was raised a Unitarian Universalist, going to First Parish in Cambridge. When I was in Sunday school the luminary minister at my church, Rev. Dr. Thomas Mikelson drove us around Georgia and Alabama to learn about the Civil Rights Movement and Unitarian involvement. We walked across the Edmund Pettus Bridge in Selma, saw the 16th Street Baptist Church in Birmingham, met with lawyers from the ACLU and visited lots of museums and memorial sites. Thomas spun this vivid narrative, about what it means and looks like to need justice so desperately that you'll devote your life to it. I still turn to these examples of compassion, solidarity, devotion, and persistence, and am so grateful for that opportunity to learn about the role of spirituality in movements for justice.
I learned about the idea of intersectional oppression in a Black Feminisms course in college taught by Jennifer Morgan, who was another amazing teacher (and enormously patient as I read texts by people who fundamentally evolved the way I think about gender, race and equality—my learning curve was steep). I see that class as an intellectual turning point in my life that has helped me understand my experience of this oppressive society with other people's experiences, without appropriating those stories or trying to universalize mine.
So many people in my community work towards a better world—as teachers, farmers, writers, lawyers, activists, artists—and my sense of obligation to those people brought me to the march. The dysfunctional nature of the American justice system demands nothing but outrage, and sometimes yelling in a crowd in the street, waking people up at night, is the only thing that feels like an appropriate response. My experience in American institutions and businesses—from schools, stores, restaurants, banks, airports, neighborhoods, not to mention police stations, my own home, the neighborhood I live in—is marked by my whiteness, and I felt like it was necessary to put my body in a crowd demonstrating against the status quo.
Steve Alquist is profiling people arrested at the November 25 BlackLivesMatter march that temporarily closed down Interstate 95 in Providence. Read the other interviews here:
---
---
Support Steve Ahlquist!
PVD7: Interview with Ferguson protester Tess Brown-Lavoie

,