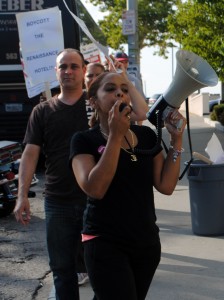 One of the few bright spots on the Rhode Island economic landscape is tourism, but should our economic successes be built on the backs of women scraping by on minimum wage?
Some hotels downtown pay fair wages and are willing to negotiate with their employees about working conditions. The Providence Renaissance Hotel next to the State House and the Providence Hilton next to the Convention Center do not. The practices at these hotels have been shameful. And to a casual observer, it's hard not to come to the conclusion that the management at these hotels are specifically targeting young mothers for harassment and termination. (See the pieces I wrote in collaboration with Krystle Martin and Adrienne Jones.)
In response, the hotel workers and Unite Here! 217 have planned an ongoing series of pickets at both hotels, called Working Women Wednesday. Each week a team of protesters will be raising a ruckus at each hotel. Attention will be called to the fact that the profits of the Providence Renaissance Hotel and the Providence Hilton Hotel made by treating working mothers as disposable commodities.
Let's demand that hotel management do better.