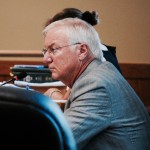 By Steve Ahlquist on July 26, 2016
There were two big reveals at the first day of the PUC evidentiary hearing in Warwick on Monday. First, John Niland, director of development for Invenergy, admitted under oath that he knowingly gave false information to the EFSB at the March 31, 2016 EFSB hearing held at the Burrillville High School. Second, Invenergy's proposed plant will not be clean: It's emissions will be higher than the the current New England average of all power plants.
Posted in Class Warfare, Climate, Corporate Greed, Energy, Featured, Infrastructure, News, Video | Tagged Alan Shoer, CLF, Conservation Law Foundation, EFSB, Energy Facilities Siting Board, Invenergy, Jerry Elmer, John Niland, Jr., Margaret Curran, Marion Gold, Michael McElroy, Michael Sabitoni, Oleg Nikolyszyn, RI Office of Energy Resources, RI Public Utilities Commission, Ryan Hardy | 2 Responses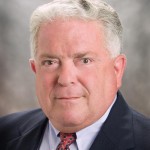 By East Bay Citizens for Peace on April 1, 2016
On Saturday, January 23, 2016 at 7:30 PM, Ambassador Chas W. Freeman, Jr. will present a talk titled "The End of the American Empire: Foreign Policy without Diplomacy" at The Barrington Congregational Church, Fellowship Hall. 461 County Rd, Barrington, RI.
Posted in Activism, Defense, Events, History, International News, National News, News, Politics | Tagged AFSC-SENE, American Friends Service Committee – South East New England, east bay citizens for peace, Jr. | 4 Responses
By ACLU of RI on March 15, 2016
In its motion for summary judgment filed yesterday, the ACLU called for the release of "the wrongfully withheld documents post haste."
Posted in Activism, Civil Rights, Events, Featured, Health Care, Media, National News | Tagged American Civil Liberties Union of Rhode Island, Department of Justice, DOJ, FOIA, Freedom of Information Act, Jr., Neal McNamara, Nixon Peabody, Peter Neronha, Steven Brown | Leave a response
By ACLU of RI on March 4, 2016
In February 2014, Judge McConnell held… that Ms. Morales "has set forth plausible allegations that she was unconstitutionally detained solely based on her national origin and Hispanic last name."
Posted in Civil Rights, Class Warfare, Featured, Immigration, National News, News, Race & Racism, Rhode Island | Tagged ada morales, American Civil Liberties Union of Rhode Island, ice, Jr. | Leave a response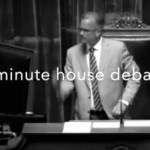 By Steve Ahlquist on January 28, 2016
In a mildly contentious House debate, Reps passed 2016-H 7051, legislation that would require the approval of a city or town council to establish or expand a charter school.
Featuring Rep. Antonio Giarrusso, Rep. Michael J. Marcello, Rep. Gregg Amore, Rep. John J. DeSimone, Rep. David A. Coughlin, Jr., Rep. Patricia A. Serpa (who introduced the legislation) and Rep. Patricia L. Morgan.
Posted in Class Warfare, Education, Featured, People, Rhode Island, State House, Video | Tagged 5 minute house debate, Antonio Giarrusso, charter schools, Gregg Amore, John J. DeSimone, Jr., Patricia A. Serpa | 1 Response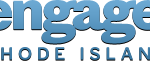 By Andrew Stewart on January 21, 2016
Remember back when all the important people were lining up in droves to support then-Treasurer Raimondo's pension policies under the false advertising of a crisis? Wouldn't it be great if we could go back in time to look at who played along, willingly or unwillingly, in what is turning out to have been a complete […]
Posted in Business, Corporate Greed, Criminal Justice, Pensions | Tagged Edward "Ted" Seidle, Employees' Retirement System of Rhode Island, ERSRI, FBI's White Collar and Complex Financial Crimes unit, Gina Raimondo, james diossa, Jr., pensions, Rhode Island Retired Teachers Association, RIRTA, SEC's Municipal Securities and Public Pensions unit, U.S. Attorney's Office - District of Rhode Island's Criminal Division | 18 Responses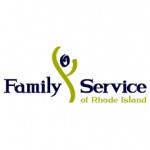 By Family Service of Rhode Island on January 13, 2016
"I urge everyone interested in sex trafficking issues, particularly persons in law enforcement and social work, to watch this video. It provides a real-world look at the day-to-day problems confronting victims and first providers," said Dr. Susan Erstling.
Posted in Civil Rights, Criminal Justice, Events, Featured, International News, National News, News, Providence, Rhode Island, Video, Youth | Tagged Hasbro Children's Hospital, Hugh Clements, Jr., Providence Police Department, Susan Erstling | 2 Responses
By Herb Weiss on June 6, 2014
This weekend look for the gathering of friends, Rhode Island College educators, progressives, folkies and family members of the late Richard J. Walton, who come to the Red Bandana Award to pay homage and remember him. With his prominent long white beard and red bandana, decked out in blue jean overalls and wearing a baseball […]
Posted in Events, People | Tagged amos house, Bill Harley, George Wiley Cener, George Wiley Center, green party, henry shelton, Jr., necap, Nick-a-Nees, providence student union, Red Bandana Award, Rhode Island College, richard walton, stone soup | 2 Responses
By Brian Hull on August 23, 2011
Carol Santos Aguasvivas, Andy Andujar, Anthony Autiello, Jr., Peter Baptista, Jake Bissaillon, Hon. Chris Blazejewski, Sandra Cano, Victor Capellan, Suzanne Da Silva, Jeff Dana, Adriana Dawson, Jason Del Pozzo, Doris De los Santos, Hon. James Diossa, Michael Fontaine, Amy Gabarra, Meghan Grady, Teny Gross, Chris Hunter, Arianne Lynch, Daniel Meyer, Alex Moore, Albin Moser, Lauren […]
Posted in Events | Tagged Adriana Dawson, Angel Taveras, Brett Smiley, David Segal, Doris De los Santos, Jr., Providence, Sandra Cano, Teny Gross | Leave a response