By Steve Ahlquist on January 28, 2017
"I don't think I've announced anything yet," replied Whitehouse, "but I don't think there's a chance in the world of that happening."
Posted in Featured, Health Care, News, Reproductive Rights, Women | Tagged aca, Affordable Care Act, Department of Health and Human Services, DHHS, donald trump, Medicare, obamacare, Planned Parenthood, Sheldon Whitehouse, Tom Price | Leave a response
By Steve Ahlquist on January 16, 2017
"We depend on this," said Gina Rombley, "We are a small business. My parents depend on this, my daughter depends on this… You can't take something away from so many people that need it."
Posted in Civil Rights, Events, Featured, Health Care, Johnston, National News, Photos, Video | Tagged aca, Adam Miner, Affordable Care Act, American College of Physicians, Bernie Sanders, David Cicilline, donald trump, Gina Raimondo, Gina Rombley, jack reed, James Langevin, Jane Hayward, Johnston Senior Center, Joseph Polisena, Maureen Maigret, Medicaid, Medicare, Nitin Damle, obamacare, Rhode Island Health Center Association, Senior Agenda Coalition, Sheldon Whitehouse | 12 Responses
By Steve Ahlquist on November 28, 2016
Raimondo's "Reinventing Medicaid" paid off today with the announcement of nearly $130 million in federal funds that will help facilitate health care professional training and alternative payment models. But questions remain: Are we training students for good paying jobs or poverty? Will Medicaid survive Trump?
Posted in Corporate Greed, Disability Services, Events, Featured, Health Care, Labor, National News, Rhode Island, State House, Video | Tagged ccri, Community College of Rhode Island, David Cicilline, elizabeth roberts, fight for 15, Gina Raimondo, James Langevin, John Oleksa, Medicaid, Medicaid Millionaires, Medicare, Meghan Hughes, Patrick Quinn, paul ryan, Reinventing Medicaid, SEIU 1199NE, Sheldon Whitehouse | Leave a response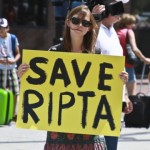 By Steve Ahlquist on September 29, 2015
As William Flynn, executive director of the Senior Agenda Coalition of RI said, "Isolation kills, and transportation is a vital part of fighting isolation." He thinks as many as 4500 Rhode Islanders may be affected by the plan.
Posted in Class Warfare, Featured, Poverty, Providence, Rhode Island, Transportation, Video | Tagged Logisticare, Medicare, Rhode Island Public Transportation Authority, RIPTA, RIPTA Riders Alliance, Scott Avedisian, Senior Agenda Coalition of RI, William Flynn | 5 Responses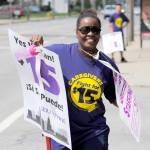 By Steve Ahlquist on July 31, 2015
The rally was also just two miles from the Massachusetts border, where home care workers recently won a minimum wage of $15 to be phased in over the next few years. Rhode Island does not pay nearly as much.
Posted in Class Warfare, Corporate Greed, Economics, Featured, Health Care, Labor, National News, Photos, Rhode Island, Video | Tagged david bennett, Mary Duffy Messier, Medicaid, Medicare, NEARI, Progressive Democrats of Rhode Island, Rhode Island Jobs with Justice, RI AFL-CIO, Scott Slater, SEIU 1199 New England, Teamsters Local 251, UFCW, UNAP, Unite Here Local 217 | 2 Responses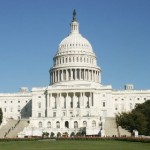 By Herb Weiss on April 21, 2015
Congress put aside its fierce partisan bickering and came together to pass H.R. 2 –the Medicare Access and CHIP Reauthorization Act of 2015 (MACRA). This week President Obama took the opportunity to sign the legislation package into law. The congressional fix repeals and replaces the flawed Medicare physician reimbursement system known as the sustainable growth […]
Posted in Featured | Tagged AARP, AARP CEO Jo Ann Jenkins, Max Richtman, Medicare, President Obama, U.S. Senator Sheldon Whitehouse | Leave a response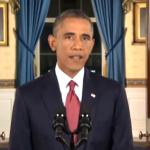 By Herb Weiss on March 3, 2015
President Obama released his 141 page 'policy and wish list" when he unveiled his politically ambitious FY 2016 budget on Feb 2, not having to worry about running for president in the upcoming 2016 presidential election cycle. Yes, even inside the Washington Beltway a picture is truly worth a thousand words. Gone is the budget's […]
Posted in Featured | Tagged FY 2016 budget, Max Richtman, Medicaid, Medicare, President, Social Security | Leave a response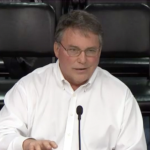 By Steve Ahlquist on February 9, 2015
"There's already massive movement towards technology that will eliminate the need for labor," said Bob Bacon of Gregg's Restaurants, "In many restaurants now you have touch pads. Guess what's next? Pretty soon you're placing your order on that thing and it's going to take ten less people to serve you your dinner."
Posted in Class Warfare, Corporate Greed, Economics, Featured, Labor, Politics, State House | Tagged Antonio Giarusso, Bob Bacon, david bennett, earned income tax credit, Elizabeth Suever, Greater Providence Chamber of Commerce, Gregg's Restaurants, john simmons, K Joseph Shekarchi, Lenette Boisselle, Medicare, minimum wage, Nicholas Mattiello, Rhode Island Hospitality Association, robots, Thomas Palangio, walmart | 18 Responses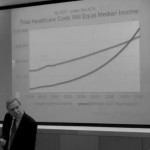 By Steve Ahlquist on February 3, 2015
"What will happen if we don't do this?" asked Dr. Oliver Fein, "By [the year] 2038 a person's entire household income will have to pay for health insurance. A condition that's not compatible with life."
Posted in Health Care, State House | Tagged aaron regunberg, aca, Affordable Care Act, Brown University, healthcare, Medicare, Medicare for All, obamacare, Oliver Fein, Physicians for a National Health Program, PNHP, single payer, Warren Alpert Medical School | 2 Responses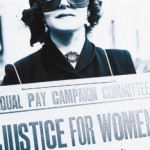 By Herb Weiss on March 7, 2014
Following on the heels of a Government Accountability Office (GAO) report released last week, the U.S. Senate Special Committee on Aging held a hearing to put a Congressional spotlight on the alarming increase of older Americans becoming impoverished.  The GAO policy analysts concluded that a growing number of the nation's elderly, especially women and minorities, […]
Posted in Featured, Pensions | Tagged AARP Rhode Island, food stamps, GAO, Kate Brewster, Medicaid, Medicare, Social Security | Leave a response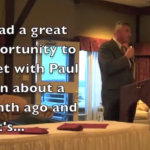 By Bob Plain on August 12, 2012
Earlier this month, Bill Fischer, spokesman for the Rhode Island Democratic party, prophetically said in a statement to the press: "Paul Ryan may not be a household name to everyone in Rhode Island, but if you're a senior citizen who relies on Medicare, you should know who he is and what he stands for, because […]
Posted in Elections, Featured | Tagged Brendan Doherty, CD1, Medicare, paul ryan | 9 Responses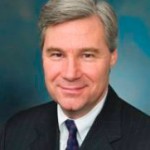 By Sen. Sheldon Whitehouse on January 30, 2012
The last few years have been tough for our great Ocean State. Across Rhode Island, I've organized community dinners, main street tours, and coffee hours where I've heard firsthand from so many people struggling to find work, seniors worried about their Social Security and Medicare, families being crushed by unfair credit card rates, and students […]
Posted in Economics, Education, National News, News, Rhode Island, Taxes | Tagged Barack Obama, China, Jobs, Medicare, Outsourcing, Pell Grants, Sheldon Whitehouse, Social Security, State of the Union | 3 Responses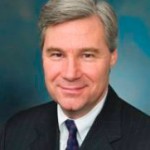 By Sen. Sheldon Whitehouse on January 11, 2012
This is bound to be an exciting year for our state, and I know I speak for many when I say that the return of RI Future to the Ocean State's blogosphere is a welcome one. From Netroots Nation coming to Providence – something Mayor Taveras and I worked particularly hard to ensure – to […]
Posted in Economics, Education, News, Politics, Rhode Island | Tagged Angel Taveras, Medicare, Netroots Nation, Pell Grants, Social Security | 1 Response
By Brian Hull on July 25, 2011
This could potentially be very, very bad… Tonight at 9 p.m. EDT President Obama will address the nation on the stalemate in Washington over avoiding default and the best approach to cutting deficits. You can watch the speech live at www.WhiteHouse.gov/live starting at 9pm tonight.  The expectation among progressives is that President Obama will reiterate his frustration […]
Posted in National News, Taxes | Tagged Barack Obama, Medicaid, Medicare, Social Security | Leave a response