Browse:
Home
/
Patrick Quinn
By Steve Ahlquist on February 26, 2017
"This is their long standing opposition to Medicare [and] Medicaid" said Whitehouse, "We thought we had those zombies buried, but they're coming back out of the earth again and they walk the planet, and we need to put them back in the ground where they belong."
Posted in Activism, Civil Rights, Class Warfare, Congress, Disability Services, Elections, Events, Featured, Health Care, Inequality, National News, Photos, Politics, Rhode Island, Video | Tagged aca, Affordable Care Act, Bernie Sanders, Brown Students for the Affordable Care Act, Chuck Schumer, Clinica Esperanza, David Cicilline, donald trump, Economic Progress Institute, healthsource ri, jack reed, James Langevin, Jonathan Staloff, Lamar Alexander, Medicaid, Medicare, Medicare for All, Neil Gorsuch, obamacare, Patrick Quinn, Protect Our Healthcare Coalition RI, public option, Rachel Flum, Republican Party, Rhode Island College, seiu 1199, Sheldon Whitehouse, single payer | Leave a response
By Steve Ahlquist on November 28, 2016
Raimondo's "Reinventing Medicaid" paid off today with the announcement of nearly $130 million in federal funds that will help facilitate health care professional training and alternative payment models. But questions remain: Are we training students for good paying jobs or poverty? Will Medicaid survive Trump?
Posted in Corporate Greed, Disability Services, Events, Featured, Health Care, Labor, National News, Rhode Island, State House, Video | Tagged ccri, Community College of Rhode Island, David Cicilline, elizabeth roberts, fight for 15, Gina Raimondo, James Langevin, John Oleksa, Medicaid, Medicaid Millionaires, Medicare, Meghan Hughes, Patrick Quinn, paul ryan, Reinventing Medicaid, SEIU 1199NE, Sheldon Whitehouse | Leave a response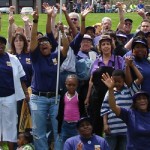 By Elisha Aldrich on August 11, 2015
Last week, Governor Gina Raimondo and SEIU District 1199 New England reached an agreement concerning family childcare providers that are part of the state's Child Care Assistance Program. This agreement was made in part due to legislation from 2013, which established collective bargaining rights for family childcare providers. The SEIU unanimously approved the two-year agreement. […]
Posted in Economics, Health Care, Labor, Rhode Island, State House, Youth | Tagged 1199 SEIU RI, CCAP, Child Care, Children, Education, Gina Raimondo, Patrick Quinn, seiu, SEIU District 1199NE | 2 Responses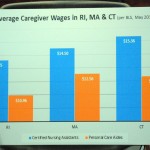 By Steve Ahlquist on May 14, 2015
SEIU 1199, representing about 4,000 health care workers in RI, held a press conference to announce a series of initiatives "to improve the way the state invests in Medicaid-funded programs in long-term care and create a pathway to living wages for caregivers." The press conference was part of a "Day of Action" at the State […]
Posted in Economics, Featured, Health Care, Labor, Rhode Island, State House, Women | Tagged Jenn Steinfeld, Medicaid, Patrick Quinn, Reinventing Medicaid, SEIU District 1199NE, Women's Fund of Rhode Island | 1 Response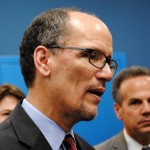 By Steve Ahlquist on April 25, 2015
"Paid leave is good for business and employees," said Cicilline, "Supporting programs like paid leave promotes [employee] retention, recruitment of employees and improves productivity."
Posted in Economics, Featured, National News, Rhode Island, Video, Women | Tagged Barrack Obama, David Cicilline, gayle goldin, george nee, Gold International Machinery, jack reed, James Langevin, Patrick Quinn, Rhode Island AFL-CIO, RI Department of Labor and Training, Scott Jensen, Tom Perez | 6 Responses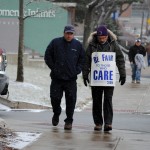 By Steve Ahlquist on January 16, 2015
"These folks think that [Women & Infants] is their personal piggy bank," says Patrick Quinn, "management has embarked on a whole scheme of things to basically cut costs, reduce staffing, increase workloads and frankly, we're sick of it."
Posted in Activism, Class Warfare, Corporate Greed, Health Care, Labor | Tagged Care New England, Dennis Keefe, Patrick Quinn, seiu 1199, travel nurses, Women & Infants | 8 Responses