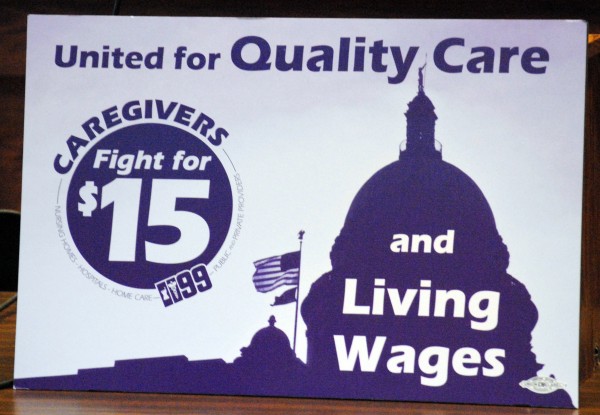 SEIU 1199, representing about 4,000 health care workers in RI, held a press conference to announce a series of initiatives "to improve the way the state invests in Medicaid-funded programs in long-term care and create a pathway to living wages for caregivers."
The press conference was part of a "Day of Action" at the State House, and was followed by SEIU members presenting their ideas to their state reps and senators ahead of the day's legislative session.
"I love my residents like my own family, but at the end of the day, I don't bring home enough money to take care of my two daughters," said Nichole Ward, a certified nursing assistant (CNA) at Greenville Skilled Nursing and Rehab in Greenville, who spoke of the difficulty of not earning a living wage. "After working hard, being on our feet, taking care of people for 40 hours a week, I shouldn't have to choose between my electric bill and school supplies for my kids. We deserve at least $15 an hour."
Patrick Quinn, executive director of SEIU 1199 and a member of the Reinventing Medicaid working group, outlined the eight points of SEIU's plan to both cut Medicaid costs and increase wages for frontline medical workers while improving health outcomes. The eight points are expanded upon in a white paper entitled From the Frontlines to the Bottom Line.
1. Create a value based purchasing program to improve care quality and staffing in nursing homes and reduce re-hospitalization.

2. Increase transparency of "related party" finances and reporting, in effort to reduce waste, fraud, and abuse.

3. Target any nursing home rate reductions toward costs unrelated to the provision of direct care, such as Fair Rental Value and "home office" charges.

4. Focus increased revenue and rate restoration initiatives on direct resident care and workforce stability.

5. Claw Back: Recoup Medicaid reimbursements that are not used for their intended purpose, especially in regards to direct labor.

6. Cap Medicaid reimbursement for executive compensation based on facility size.

7. Realize Medicaid savings though more energy efficiency initiatives.

8. Expand Rhode Island's Paid Family Leave Program from 4 to 6 Weeks.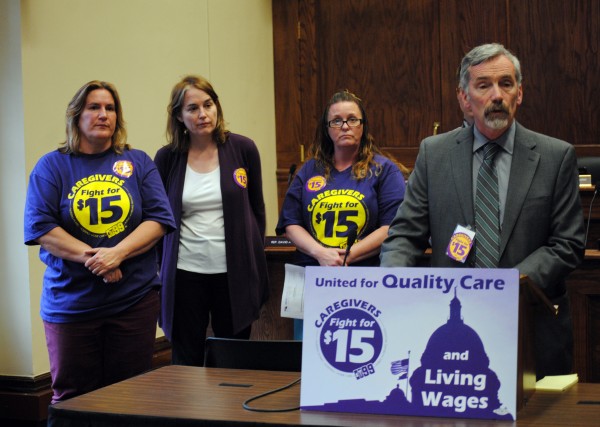 Speaking in support of the SEIU's effort was Jenn Steinfeld of the Women's Fund of Rhode Island, who sees this as both a social justice and gender equity issue.
It's a gender issue on two fronts, says Steinfeld, because women live longer, and therefore make up 74 percent of the elderly patients in the Medicaid system and women make up 90 percent of the direct care workforce. Additionally, the over representation of minorities in the field makes this a racial justice issue, notes Steinfeld.
CNAs Dawn Auclair and Manoucheka Robert both spoke about the attachment they have to their patients, the importance of their work, and their difficulty in performing this valuable work for such low pay.
Sarah Nolan, who works for the SEIU International Policy Department in Washington DC, said that the white paper they have released focuses on both short and long term solutions to the problems in Medicaid quality and cost. She also stressed the importance of front line medical workers playing a role in these discussions.
Near the end of the press conference, CNA Nichole Ward explained that experience is key when dealing with patients. Cutting costs and worker turnover can raise the stress level of front line health care workers, and residents in nursing homes can sense that stress, even if healthcare workers think they are hiding it.
Such an environment cuts against the efforts to improve health care.
SEIU proposes Medicaid solutions that don't hurt workers

,