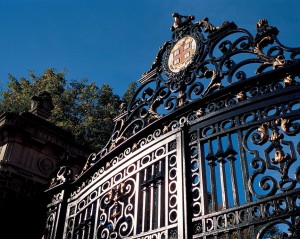 First Brown University's Taubman Center put out this push poll on pensions, then it stacked its panel discussion on the subject with some of the most conservative voices on pension politics available.
On Thursday afternoon the Center will host a discussion called Pensions in Peril: How Municipalities Are Defusing This Fiscal Time Bomb. Slated to speak are Eileen Norcross, Joshua Rauh and Robert Clark; all are very well-known for taking a very hard line on the dangers posed by public sector pension plans.
One local pension expert said the Center could have fostered a more balanced conversation had it invited the likes of Dean Baker, of the Center for Economic and Policy Research, or Diane Oakley, of the National Institute on Retirement Security, instead of just the three pension skeptics.
Norcross works for the Mercatus Center, a right-wing think tank at George Mason University financed by the Koch Brothers and big oil, among others.
Here's what she had to say to Fox News about Central Falls' pension problems:
The second panel discussion has a more balanced panel, including mayors Scott Avedesian of Warwick and Don Grebien of Pawtucket. Other panelists are: Gayle Corrigan, Chief of Staff, City of Central Falls; Dennis Hoyle, Auditor General of Rhode Island; and Susanne Greschner, Chief, Municipal Finance Department, State of Rhode Island.
Taubman Center Picks Biased Pension Panel

,