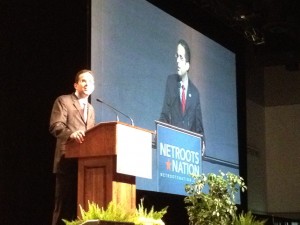 Two of the Democrats running for governor are taking a wait-and-see what-happens-elsewhere approach to legalizing marijuana in Rhode Island.
In an email to RI Future today, Providence Mayor Angel Taveras said, "I am not currently supportive of legalization.  I think we need to wait and see what impact such a large change has on states like Colorado and Washington." He pointed out that he did support last years' successful effort to decriminalize marijuana, he said, "because it allows us to better focus police resources."
Somewhat similarly, Clay Pell told WPRI Newsmakers in January, "I think that we need to take a look at what's happening in Colorado and wait and see what's happening in Washington. I don't support taking any particular action at this time."
Tim White pressed him a bit: "But right now that's not a straight no. It sounds like you're leaving the door open a little bit.?"
And Pell responded, "Look, I want the econ of Rhode Island to grow. I'm not sure if that is the place to begin. I'm happy to see what happens in Washington and Colorado…"
I asked Gina Raimondo on Twitter about a month ago but haven't heard back from her.
Gov Chafee told RI Future earlier in the session he was taking a wait and see approach. After he spoke with Colorado Gov. John Hickenlooper, he said he would evaluate if and when the tax and regulate bill made it to his desk.