Providence Mayor Angel Taveras "believes it is better to raise the wage at the state level but is open to the proposed ordinance before the City Council," said campaign spokeswoman Dawn Bergantino today.
"The City of Seattle spent months studying the issue before the recent passage of a citywide wage," she said. "The Mayor believes it is equally important that Providence do an economic impact study to understand what, if any, consequence we may see and to ensure the proposal will help those it is intended to, in the way it is intended to. He wants to make sure that we have an economy that is fair and provides opportunity to everyone."
The statement comes as the mayor may have to weigh in on a $15 minimum wage for the hotel industry in Providence, as activists have put a proposal before the City Council, and as Rep. Ray Gallison is pushing a bill that would block cities and towns from having higher minimum wages than the state.
Bergantino said Taveras did not ask House Finance Committee Chairman Ray Gallison to put forward a bill that would prevent cities and towns from setting their own minimum wage.
It's still unclear why Gallison, chairman of the powerful House Finance Committee, proposed the bill as he prepares to lead the budget bill through his committee. House spokesman Larry Berman said he didn't know what prompted Gallison to support the move, which is usually associated with conservative low wage activists.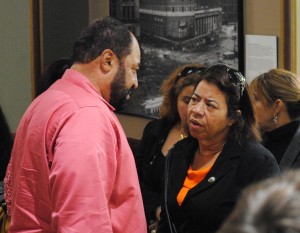 Providence City Councilor Carmen Castillo, who is also a hotel housekeeper, took umbrage with Gallison meddling in city politics.
"Representative Gallison's proposal is an attack on all RI cities and towns," she said in an email to RI Future. "It will strip us of our power to represent our communities. What power will they try to take from us next?  The right to decide if we should have a casino in our town?  The right to set our own budgets?"
Castillo, who works at the Omni Hotel, added, "I make almost $15 per hour.  I proudly clean 15 hotel rooms a day for Providence tourists – guests from graduations and conventions, tourists on their way to Cape Cod  and business travelers all sleep in clean rooms because of hundreds of women like me.  I was able to buy a house and send my daughters to college.  I eat in my neighborhood restaurants and shop in the bodegas."
Councilman Sam Zurier said he wasn't familiar enough with Gallison's bill to weigh in. But he reiterated what he has written in his constituent newsletter:
"I have an open mind on this issue, and I will attend the hearing looking for answers to several questions, including the following: (1) What is the current wage scale at Providence hotels, including those that have unions?; (2) What is a living wage for Providence?; (3) What are the costs/benefits of (a) a minimum wage at the municipal (rather than state or national) level, and (b) an industry-specific minimum wage?; (4) What ramifications would the ordinance have for other hotel employees, such as those employed in a hotel restaurant or gift shop, and what would be the full impact on room rates and hotel operations?"