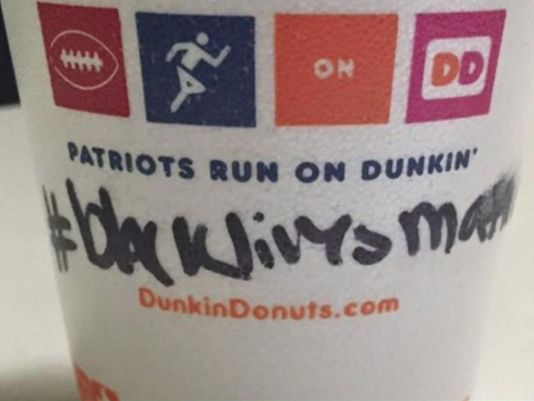 Taft Mazotti, president of the Providence police union, and Jim Vincent, executive director of the Providence chapter of the NAACP, have very different opinions on the actions of a 17-year-old black employee of an Atwells Avenue Dunkin Donuts who wrote "#Blacklivesmatter" on a cop's coffee cup.
The police union issued a press release chiding the teenage girl and the Black Lives Matter movement, while Vincent defended the young woman and the catch phrase that has unified people who feel that black people continue to be marginalized in America.
"The negativity by the #Blacklivesmatter organization towards Police across this nation is creating a hostile environment that is not resolving any problems or issues, but making it worse for our communities," according to the press release. "They are doing this by increasing tensions amongst police and the people they serve."
But Vincent thought it was the police who are increasing community tensions with its handling of the incident.
"I just think it makes the union look bad," he told RI Future. "It gives people the impression that black lives don't matter to them."
Manzotti told RI Future this morning that the issue raised concern for the union because they believe that someone who would write black lives matter on a coffee cup may also try to poison a police officers' coffee. "There's been a concern that police officers have to be weary about where we can get something to eat or drink," Manzotti said.
Vincent scoffed at the assumption that asserting that black lives matter indicates a direct threat to a police officer, noting that the movement is not even against police officers. "You cannot imply that because someone says black lives matter that they are against the police," he said. "I think she probably just wanted to communicate that black lives matter and the officer took it the wrong way."
I asked both Manzotti and Vincent if the officer missed an opportunity to dialogue with the woman about what the Black Lives Matter movement means to her.
"I think they missed an awesome opportunity to do some real community policing," Vincent said. "Instead of bringing the community together they further fractured it. They may not have meant to do this but that's what happened."
Manzotti said the officer did not notice the message on his coffee cup until he arrived at work. "We're a very busy department," he said. "For an officer to take time to sit down with someone…"
Manzotti stopped mid sentence to tack away from officer time management to put the onus on the employee. "Let's turn this around," he said. "Could the employee have reached out and started a conversation?" When reminded he was tasking an urban teenager of color, rather than a law enforcement officer, with taking the lead in starting this conversation, he said, "Every single person knows right from wrong."
Manzotti said he thought the young woman should be fired, but was careful to explain that the union did not ask the owner to fire her when they spoke earlier this week.
"We asked that he do whatever he feels is necessary to rectify the situation," Manzotti told RI Future. "I can't tell him what to do but I know if I had an employee working at my small business who did that, that person would not be working for me."
Vincent acknowledged the teenager "maybe used poor judgment" but agreed with a reporter who said the employer would likely lose a wrongful termination lawsuit, as well as risk national backlash. "If there was no clear policy in place," Vincent said, "…it's hard to fire someone for something like this."
Perhaps their biggest difference concerned the phrase black lives matter.
"I'd like to hear the union say black lives matter," Vincent said. "Why can't they say that? What is it that's so difficult for them about acknowledging that black lives matter? It suggests to the community that black lives don't matter to them."
Manzotti was careful to avoid acknowledging that black lives matter and, like in the initial press release that kicked off this tempest in a teapot, explained, "because, to us, all lives matter." He said he has not seen evidence in his life or career that black lives matter less than white lives.
Vincent said supplanting 'all lives matter' for 'black lives matter' is "almost like a code word for saying you don't believe black lives matter." He added, "Either intentionally or unintentionally, it marginalizes and minimizes the value of black lives."