"Thousands are getting shut off notices today," said Camilo Viveiros, lead organizer of the George Wiley Center to the 22 people gathered around a table hoping to avoid losing power on May 1, "Over 20,000 people in Rhode Island have their power shut off every year."
Viveiros and the the George Wiley Center want to prevent unnecessary shut-offs. He talked about the Henry Shelton Act, named for the Rhode Island anti-poverty activist who shepherded a bill through the General Assembly that allows for "more than 50% of utility bills" to be forgiven under certain circumstances.
According to a George Wiley Center handout, "Utility Consumers of Rhode Island have… rights under state law and the Rules and Regulations of the Public Utilities Commission (PUC) and Division of Public Utilities and Carriers (Division), which have the 'jurisdiction to grant an exception to the provision of these regulations to any party for good cause shown.'"
If you're behind on your utility bills, you have the right to "to both an informal hearing and a formal hearing before an impartial Division Hearing Officer. Utility shut-offs are prohibited until this hearing process is complete." If a deal can not be made to your satisfaction, you have the "right to appeal the final Division hearing decision to Superior Court."
You have the "right to an affordable payment plan. The Division has the authority to order payment terms which are less stringent than the applicable Residential Payment Plan."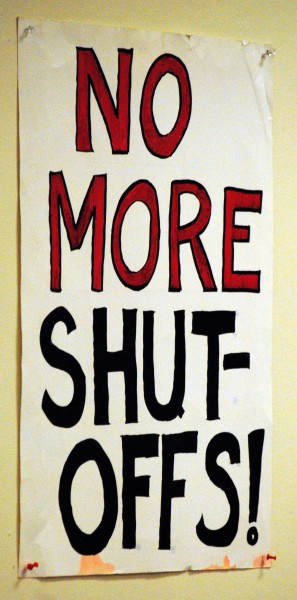 Further, if a customer is seriously ill, or if there is an infant in the home under the age of 24 months, you have the "right to protection" from a utility shut-off. "A lot of people with medical conditions get shut off in the summer time," noted Viveiros, "A lot of Rhode Islanders would be shocked by that."
It can pay to know your rights.
There is "the right for a 'protected' class of customers to maintain their gas and electric utility services during the Winter Moratorium from November 1st through April 15th. (Protected status for those who are disabled, LIHEAP recipients, seriously ill, unemployed, households with all over 62 years or children under 2 years.)"
You also have the "right to proper representation from the Consumer Unit of the Attorney General's Office."
We don't have these rights, says Viveiros, "because some corporations decided to be nice to us. We had to fight for them." Often, cautions a flier, "consumers calling the Division for help are turned away without being informed of their rights or about how to use the law." Viveiros and the George Wiley Center are trying to fix that problem.
To that end the George Wiley Center has scheduled a series of trainings and will be happy to guide people through the sometimes difficult process of dealing with out of control utility bills. They've developed a 10 point plan of action:
Call the George Wiley Center to see if a member or volunteer is able to accompany you at the hearing. Also, ask supportive family members, friends, your elected officials, etc. to attend your hearing or offer letters of support.
Start making some kind of payment before your hearing, even a small amount.  This will show a good faith effort when your payment history is discussed at the hearing.
Put together a "monthly budget", the amount of your income minus all the bills that must be paid. Ex. Rent, food, medication, gas or oil, electricity, other utilities, etc. Have it written or typed out, and bring it with you to the hearing.
Prepare to tell your story, your special circumstances, including personal hardship such as unemployment, medical issues, children, divorce, etc. Let the Division hear what it is like to be you, to not have enough to afford your high payment plans for utilities that you can't live without. Be prepared for the utility company representative to have a history of your payments, including missed and defaulted. Document all attempts you have made to request assistance, and if it they were denied, such as LIHEAP, Salvation Army, the Diocese, churches.
On the day of the hearing, arrive early to meet with your supporters beforehand.
Shut off cell phones and tuck them away during the hearing.
Share your story, monthly budget, and individual hardship circumstances with the Division. Tell them you want to pay the bills and what you can afford.
Do not make a deal at the hearing unless you really can afford the payments. Make sure the Hearing Officer tells you they have up to thirty days to make a decision on a payment plan.
Stay in contact with the George Wiley Center, update us as soon as you get the written response from the Division.
Attend meetings and actions to strengthen protections and improve policies that impact all RI utility consumers.
When people deal with utility companies unprepared, they will accept deals that only serve to plunge them into deeper debt. Noting that National Grid made $4 billion last year, Viveiros said, "We don't need people to go home and feel depressed because they don't have the money to give to people who are doing well."
A woman told the story of having her electricity turned off. She learned that her gas stove required electricity to work, meaning she couldn't cook. Her gas heat required electricity, meaning she had no heat. She ended up borrowing money from her children, running the risk of messing up her children's finances. The woman felt shame, guilt and helplessness, simply because she fell behind on her bills.
No one is poor by choice. It is essential that we know our rights and come together as a community to compel large corporations to treat us with respect and dignity. "We're trying to create a caring community," says Viveiros, "where it isn't all about the bills."
Contact:
George Wiley Center, 32 East Ave, Pawtucket, RI 02860
cell: 401-338-1665 office: 401-728-5555
The George Wiley Center wants to help you avoid utility shut-offs

,