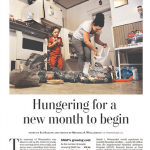 A recent article in The Washington Post on the effects the Supplemental Nutrition Assistance Program (SNAP) has on Woonsocket has once again placed the federal program in Rhode Island's sights. Though the article is an indictment of our collapsed economy, a single part of the article focusing on the family's finances seems to have caught the attention of both right and left. Here's the offending part:
For the past three years, the Ortizes' lives had unfolded in a series of exhausting, fractional decisions. Was it better to eat the string cheese now or to save it? To buy milk for $3.80 nearby or for $3.10 across town? Was it better to pay down the $600 they owed the landlord, or the $110 they owed for their cellphones, or the $75 they owed the tattoo parlor, or the $840 they owed the electric company?
And here's Marc Comtois over at Anchor Rising:
They made some of the all too typical mistakes: teen pregnancy, move in together, have another child on their already low income and all exacerbated by a recession where the low-skilled are first and worst hit. Their economic ignorance and inability to prioritize is displayed by their $110 cell phone bill and tatoo parlor debt. That won't help earn them much sympathy.

Yet, while they don't seem to really "get it"–and I don't want to give them a pass–society and the system certainly enable their naivete and ignorance. In today's world, having a cell phone is simply a given–well nigh a "right" in the eyes of many–and spending money on tatoo's is another norm, like getting your ears pierced used to be. That's what you spend your cash, your "extra" money, on. Food comes from SNAP.
Here's our own Dave Fisher, linking this story to the educational models of the state:
While I can certainly empathize with this couple, the fact that tattoos are an expense in a budget this small is patently ridiculous. Even for those with disposable income, body art should be considered a luxury.

Why do they not know this? Is this a failure of our education system, or a failure on their parents' part? Is it just poor decision making?

In any case, the esoteric mathematics knowledge supposedly assessed by the NECAP has no relevance in their lives. Knowledge of simple Home Economics, on the other hand, may actually help this young family squirrel away some money and someday be able to wean themselves from the teat of federal assistance…

…And I've got some news for you, folks: When they fail, we — the royal we — have failed.
I like both writers, and on most issues they could not be further apart, but here you see them neatly align, almost parroting their arguments (though there are significant differences between the two). I'll get to their arguments, but first I want to make a media point.
Post continues on next page (see "Pages" below "Related Posts")