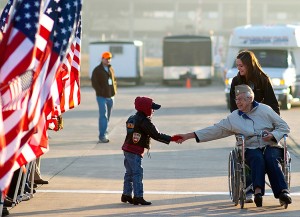 He was a boy
and lied about
his age. His older
brother and he
enlisting for the great
adventure. Call it
getting out of town,
call it getting out of the country.
Call it three squares a day,
call it liberation,
call it war,
call it invasion.
So it's off to Asia
and an Edwardian education,
and Thirty Thousand Killed a Million,
wrote the humorist, raging,
and our wounded boy came home
decades before my mother's birthing.
I remember the old man,
and how the cousins who did
live with him would sneer
to tell of his crying jags,
supposing crocodile tears
to explain an old man's
desperate melancholy.
I remember how his belly
ached, and how his cigarettes
his breath would take, his
shouting deaf man's voice
and how he'd be sure to buy
the first poppy of the Day
from some ancient, younger vet
of some more recent, ancient war.
What else than honoring
an Armistice would
such a choice be for?
But now? All displaced
by our cynical sentimentality.
It's not a peace we recognize,
but an endless, veteran-making
enterprise. So here's to this
day's Veteran's Day: may
all our desperate best be thrown away.
May all the chicken hawks accord
our country reap its just reward.