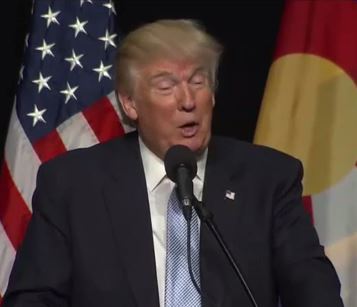 The following was transcribed from two random sections of Donald Trump's speech on July, 29th, 2016, at the University of Colorado, Colorado Springs. The first section covers the first four minutes, fifty-one seconds of the speech. The second selection is from 14:38 to 21:48. The two sections equal about twelve minutes of the fifty-five minute speech.
This is why our country doesn't work. You understand. So, we have thousands of people in a room next door. We have plenty of space here. We have thousands of people waiting outside to get in, And, we have a fire marshal who says, "Oh we can't allow more people. It really is so unfair to the people. I'm so sorry. And, I have to apologize. But, it's not my fault. I just came here. But, we have thousands of beautiful, wonderful, great people in the room next door, and outside, and they won't let 'em in. And, the reason they won't let 'em in is because they don't know what the hell they're doing. That's why. Okay? Too bad.

That's why our country has prob- Maybe they're a Hillary person? Could that be possible? Probably. I don't think there are too many of them. I don't think there are too many of them.

Anyway, they set up a screen in the other room. They set up something outside. But what a- what a disgraceful situation. So … but, you people can't be complaining, right? (applause) You can't be complaining.

Alright. (pause) So much … So much to straighten out in this country. This is the kind- this is the of think we have in federal government also, by the way, folks. You know? And then you wonder why we're going to hell. That's why we're going to hell. It's the thought – You know what it is? It's the thought process, right?
So far, Trump has insulted the Fire Marshal for enforcing the fire safety code, and clumsily connected that to support for Hillary Clinton and the eternal damnation of the United States of America. Good start, Donald.
So … I watched last night. I watched Hillary Clinton. (shakes head disapprovingly) What a sad … what a sad situation.

And, and, by the way, they're going to let some of these people, I was just informed, they're going to let some of them meander in … meander. Too bad.

But, I watched her last night giving a speech … that was so average. And, I watched last night as the network said, "It was alright. It was good. It was fine." And, then I watched this morning. "It was so wonderful." It wasn't wonderful, folks. And, then I read a report that just came out, I can't believe it, in Politico. I can't believe that. And, they wrote something all cliches. All just written by a – by a scriptwriter. And, it was all clichés, you know. They used a little tweet one on me about tweet. And, she said something about the campaign. "Donald Trump doesn't know how to campaign." Something like that. I just beat sixteen people and I'm beating her. (pause)
A scriptwriter writes scripts. While it is unclear to which of the several articles Donald refers, it appears from his repeated use of the word "cliches," he is referring to the Politico piece by Jeff Greenfield. One which was not particularly flattering to Clinton's speech. Greenfield is a journalist, holds a law degree, and served as a speechwriter for Robert Kennedy. To the best of my knowledge he has never written a script for the stage or screen.
As of July 29, 2016, Trump is not beating Clinton in polls. In her speech, she did refer to Twitter, which (one can imagine) is to what he referred when he said "They used a little tweet one on me about tweet." Yes, she did say something about the campaign. Had she discussed deli meats in her speech it would have been surprising.  As, however, both you and Sec. Clinton are running against one another for President, it is standard to discuss the campaign during an acceptance speech for the Democratic nomination.
I mean … I'm watching it – I'm watching it … Oh, and by the way, this is very important. So, the Nielsen ratings just came out. These aren't polls. These are for television, much more important than polls. You know, television – these guys (points out over the crowd) – they don't care about ra- they don't care about polls. They only care about ratings. And, the Nielsen ratings came out. So, it's Trump against Clinton. And, you heard about how wonderful – 'cause I'll tell you what. I liked the Republican convention better. I did. I liked it better.
Television ratings are more important than polls to network executives and advertising executives. People who watch television are not necessarily likely voters. And, one would hope you liked the Republican convention better. You were there. You are Republican. And, at the convention, you were named as the Republican party's nominee for President.
I liked it better. I thought we had a far more beautiful set. Not even a contest. How about the first night. They had no American flags up on the stage. Second night, I started saying, "No American flags up there." And, they put so many American flags up – it's called overkill. It's called incompetence. They put so many American flags up there (gestures) you didn't know what to do. You didn't know what to do.
Voters who are going to decide for whom they vote based on the convention's set, then they probably think that Applebee's has a great decorator. Furthermore, If – wait a minute. What is that? Oh … great scott! AH! Flags! Everywhere! What do I do? I'm calling 911! Everybody into the bunker! FLAGS! Oh,
And: 
But lemme just tell you. So, Thursday to Thursday. That's the big one, right? Thursday, we beat her by millions on television. Millions. MILLIONS! We beat her by a lot. They both did good. We beat her by a lot. But honestly, the numbers were incredible. Which tells you … which tells you, isn't it good to have Trump running for the presidency?
Notwithstanding Donald's insistence that television ratings are the superior measure of electability, they are more indicative of his apparent inability to perform simple arithmetic. While true that night four of the Republican convention had more viewers than the corresponding night of the Democratic convention, it was a difference of approximately 800,000. Not millions. It was the only night the Republicans had more viewers. And, over the course of four nights, the Democratic convention had approximately 117.1 million viewers compared to the Republicans convention, with 100.7 million.

(14:38)
So … a lot of things happen. Now, I found last night interesting. 'Cause we're gonna' get a lot of Bernie supporters, I think. And, Bernie made a big mistake. The mistake he made – and, this is the beauty of doing speeches like this and I saw it and she was thanking Bernie and talking about Bernie and he's sitting there, like, glum. Did you notice? No smile. His wife pats him on the back and she pulled her hand away. Whoa, huh, huh, huh. Whoa! Did you see that? "A pat on the back, darling. I love you" And pulls it back. And, uh, she was a little bit concerned there.
Are you a marriage counselor, Donald? Go on.
But, he was angry. And then a second time they showed him, and he was angry. And, you know what. Honestly, he made a big mistake. Because, we have the best movement of all. We have far more people than anybody. We have the most important – I tell people, Bill O'Reilly said the greatest single phenomena he's ever seen in politics. This is us. All of us. All of us. You. You. You. You. You. All the people outside. Man! They had people lined up in the driveway, all the way up.
I personally feel that, "Best movement of all," and "far more people than anybody," are the emptiest hyperbole in the universe … ever.  Oh. and there is no such thing as "single phenomena." Go on …
But-but-this is one of the greatest movements in the history of our country. Our movement is much better than Bernie. By the way, I'll tell you why Bernie blew it. He sold his soul to the devil. He did. He had a great thing. I was so surprised. 'Cause, he was, like, a tough guy. He was like tough, tough, tough. And, then, in the end, he folded. And, I said yesterday. And, it's true. He wanted to go home. He wanted to go to sleep. Okay. That's what it was.
Finally, Donald reaches some political analysis. Perhaps "blew it" is not the right phrase for the Sanders movement, but … wait. What the f*** did he just say? Did he just say Senator Bernard Sanders was not the Democratic nominee for president because he sold his soul to Satan?
But, you know, had he not folded. And his people haven't folded. 'Cause his people were angry.
Donald, you just chastised Bernie for being angry. But now you are saying that his supporters' anger gives them strength, but his anger is … what, evil? Exhausting?
Now, just to show you how unfair it is, if that would have happened at the Republican convention, they would have said, "catastrophic evening." People are screaming. Did you see when they had the moment of silence for the police? And, by the way, the only reason the police were up there on that stage on the fourth night was because I was complaining they don't have any police up there. Right? They put the police up because thy were getting a lot of heat. But, they don't mean it. The difference is, I mean it. Okay? We're gonna' be law and order. And, I mean it. We're gonna' be great. We're gonna' be great.
What people are screaming? Are the flags back? The flags for which you are responsible, much it seems, like the police. As far as law and order are concerned, they do not apply to fire safety codes which, according to you, are the cause of the national trajectory to hell … where we will, of course, find Bernie Sanders' immortal soul.
But, did you see what happened when they had the moment of silence for the police? Tough situation. Tough situation. Not good. Not good. And, then you have Bernie, and he makes the deal. And, they pick a vice president that's exactly the opposite of Bernie, okay? He believes in TPP – which is a disaster, by the way, we'll never approve it. They'll approve it.
For the love of god, please tell me what happened when the had the moment of silence for the police! Or, are you asking. Yes. I saw it. Would you like me to tell you about it?
And, how about when Terry McAuliffe, the Governor of Virginia, comes out and said, "Don't worry. Hillary will approve it after the election? See, that's the way it is. And, it will take your jobs away almost as bad as NAFTA, which was approved by Bill Clinton. Right? NAFTA. A disaster. NAFTA has cleaned out so many states in this country. I – you know – look at New York state. You look at New York state. You look at New England. You look at Pennsylvania. What NAFTA has done to Pennsylvania with these companies moved to Mexico.
You chose a running mate who has expressed support for the TPP. Your suit contains labels bearing both your name and  "made in Mexico."  Go on …
A friend of mine is a builder. He builds plants. Plants. Big, big plants.
What does he build?
Big, big plants. One of the biggest. Maybe I'll use him to build the wall. What a good idea. Got a lot of smart people. Somebody shouts out, "Let him build the wall." (crowd starts to chant, "Build that wall." Or, maybe, "Kill them all." Hard to tell) We have smart people. But, this guy builds big, big plants.
So, sorry. Didn't catch that.
Automobile plants and, uh, computer technology plants. That's what he builds.
Plants, you say?
He builds plants. One of the biggest. Maybe the biggest. One of the biggest.
If this guy can build plants (He can build them in a box. He can build them with a fox, etc.) but, he would not know where to start building an apartment, what makes you think he could build 1,989 miles of wall? Please, go on.
And, he started off building plants in the United States years ago. And, he'd build plants in the United States. So, I see him the other day, and I said, How's it going? "Good." How's business? "Unbelievable" I said, great. I thought that was good for the United States, right? I said, how many plants you building? "Many," he said. "You've gotta see what's happening in Mexico."

Now, by the way, this guy's better than a consultant. If I hire a consultant, I hire some guy that, you know, is terrible, to tell me what's happening. Right? They'll charge you a million bucks. They'll give you a report in seven months from now. They have to take a long time, otherwise they can't charge as much. This guy tells me in two minutes – in one minute! I learned better from him talking to him about how's business than I can learn from some phony consultant. Because, if he was any good, he would have been the one building the plants, right? You know? So … so, an amazing thing. An amazing thing. So, I said, so what's going on? He says, "You gotta' see Mexico. It's the eighth wonder of the world."
Great Pyramid of Giza, Hanging Gardens of Babylon, Statue of Zeus at Olympia, Temple of Artemis at Ephesus, Mausoleum at Halicarnassus, Colossus of Rhodes, Lighthouse of Alexandria … Mexico.

He said, "We are building the biggest, the most sophisticated, the most incredible plants all over Mexico." I said, well what about the United States? "Not so good." Like, who cares? And, actually, he'd much rather build in the United States. But, not so good. He said, "Not so good." And, I said, well what does that mean? He said, "Well, we're doing a little work. But not much. But, Donald, you have to see Mexico." I say no thanks. But, he goes – he goes – he goes, "What we're doing there is incredible." How stupid are we, folks?
I … don't … know.
How stupid are we? Our companies are moving to Mexico and other places. While crooked Hillary Clinton – who is as crooked as a three-dollar-bill – while crooked Hillary Clinton sits there and makes up stories. "Donald Trump didn't do well in his campaign." I said, I just beat eighteen people or seventeen people. Whatever. No. No. It's all written by … It's all written – what!? By a Politico. I can't believe I'm talking about Politico. 'Cause Politico is terrible to me. But Politico write all cliches. Not good. Okay. But, somebody wrote it. She probably didn't notice it. But, I'm being recognized for having done one of the most legendary campaigns in the history of politics in this country.
I can no longer even attempt to follow your logic, Donald.  It is like 'Clinton-squared times Mexico plus the square root of Politico divided by sociopathy equals Batman symbol over eggs.

And (holds for applause) … and she puts in her thing right after the tweet. "If somebody tweets, he gets upset." I get upset? I don't get upset. I don't get upset. Somebody wrote that. You know, it was a nice little sound bite, right? You know, they just announced I have over 22 million between Twitter and Facebook. I don't get upset. If somebody Tweets, I do what I do. Who cares? I think – I'll tell ya' – I think I have the best temperament, or certainly one of the best temperaments, of anybody that's ever run for the office of president.