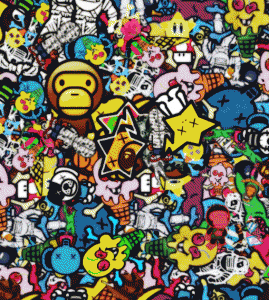 RIFuture is a fine institution that has made important contributions to the Rhode Island news culture as the ProJo has shrunk in both scope and talent while the news channels have become more corporatized. It is our hope that this new feature – the 'Tuesday to Tuesday Arts and Entertainment Calendar' will bring a lighter side to the fare. As we move into the dog days of summer, I'm open to tips and press releases regarding the events you or someone you know may be holding in the next few weeks. Feel free to e-mail data to me at andrew.james.stewart.rhode.island@gmail.com.
MY PICKS
Here is my selection of events that you should definitely consider checking out this week.
7/28
Get Out! Cardboard Rockets at Providence Children's Museum, 1-3 pm, Free with Museum admission of $9.00 per person
Something fun to do with the kids and probably a minor refresher on the basic physics of aviation.
7/29
Vinyasa Yoga with Julie Shore at AS220 Live Arts Dance Studio, Noon-1 pm, $5
Why not try out something new and help a working-class instructor at the same time. I do not subscribe to the theology underlying yoga itself, but the exercises and poses are helping me overcome some back issues and are worth checking out.
7/30
CAPOTE at Warwick Public Library, 7 pm, Free -or- Movies on the Block: BLADE RUNNER at Grants Block, 7:30 pm, Free
This one is a tough call, so I will advise both, it depends on where you located in the state. CAPOTE is a fantastic retelling of how the true crime novel In Cold Blood was composed by the titular author, whereas BLADE RUNNER remains one of the greatest visions of the future in the past three decades, a film I rank with STAR WARS as the best science fiction pictures in American history.
7/31
RI Peoples Assembly: Emancipation Day Festival at Temple of Music Roger Williams Park, 12:25, Free -and- Food Truck Fridays at Carousel Village in Roger Williams Park, 5 pm, Free admission
Take a trip over to Roger Williams Park and help some local businessmen by sampling their great food along with celebrating the end of American slavery. The two are located essentially next to each other, so it is an easy task.
8/1
August Gallery Reception at AS220 Galleries, 5 pm, Free
AS220 continues to be one of the great centers of art in the Providence area and this is a great opportunity to take in some of their new works.
8/2
THE EMPIRE REVUE PRESENTS "THE OCEAN SHOW" at AS220 Main Stage, 8 pm, $10
A comedy-music spectacular about the ocean blue, including a selection of seafaring tunes. What's to dislike?
8/3
"THE SOCIAL AVENGER" A reading written and directed by LENNY SCHWARTZ at Arctic Playhouse, 8 pm, $10
Lenny Schwartz is a prolific and versatile writer who has put his talent to work in a variety of genres and this should be a great night.
8/4
Rhode Island International Festival Opening Night at PPAC, 7 pm, $15/$50 for Gala Event also
The weeklong RIIFF is a mainstay of RI film culture and opening night is usually a great event to attend.  Tickets can be purchased here.
7/28
Get Out! Cardboard Rockets at Providence Children's Museum, 1-3 pm, Free with Museum admission of $9.00 per person
Newport BridgeFest at Queen Anne Square, 8 am-Midnight, Free
Stretch & Strength at AS220 Live Arts Dance Studio, 12-1 pm, $5
Open Life Drawing at AS220, 6 pm-8:30, $6
Intermediate Ballet Class with Danielle Davidson at AS220 Live Arts Dance Studio, 7:15 pm-8:45 pm, $13 per class/$60 for 6 classes
Native Giant, Neutrinos, Eric and the Nothing, Pyramid at Psychic Readings, 9 pm-1 am, $6
Armageddon Shop Presents: Windhand, Pilgram, and Second Grave at AS220 Main Stage, 9 pm-1 am, $10
Newport BridgeFest at Queen Anne Square, 8 am-Midnight, Free
7/29
Blithewold's Summer Concert Series: Music at Sunset at Blithewold Mansion Gardens & Arboretum, 5 pm, Member $7, Non-Member $10
Wheels at Work: Ambulance at Providence Children's Museum, 10 am, Free with Museum admission of $9.00 per person
Newport BridgeFest at Queen Anne Square, 8 am-Midnight, Free
Vinyasa Yoga with Julie Shore at AS220 Live Arts Dance Studio, Noon-1 pm, $5
Open Level Modern Dance at AS220 Live Arts Dance Studio, 6:30-8 pm, $13 per class/$60 for 6 classes
Empty Vessels – La Luna – Terror Eyes – Take Nothing, Leave Everything at AS220 Main Stage, 9pm, $7
7/30
CAPOTE at Warwick Public Library, 7 pm, Free
Summer Concert Series presented by ALEX AND ANI at Carolyn's Sakonnet Vineyard, 6 pm, $10
newportFILM Outdoors! WHAT HAPPENED, MISS SIMONE? at Doris Duke's Rough Point, 8:30 pm (sunset), Free (Sugg. donation $5)
Newport BridgeFest at Queen Anne Square, 8 am-Midnight, Free
Yoga in the Garden at Blithewold Mansion Gardens & Arboretum, 11 am, $10 member, $15 non-member Pre-paid 1-month unlimited pass
Introduction to Mat Cutting at AS220 Media Arts, 6 pm, $65
Evening Yoga at AS220 Live Arts Dance Studio, 6:15 pm, $13 per class/$60 for 6 classes
Manton Avenue Project Presents "Go Team!: The Sports Plays" at AS220's Blackbox, 7 pm, Pay what you can
Holiday Music, No Hands, Worst Gift, 14 Foot 1 at Psychic Readings, 9:30 pm, $6
Movies on the Block: BLADE RUNNER at Grants Block, 7:30 pm, Free
7/31
Family Fun Friday: Rolie Polie Guacamole at Blithewold Mansion Gardens & Arboretum, 11 am, Included with admission
Food Truck Fridays at Carousel Village in Roger Williams Park, 5 pm, Free admission
Manton Avenue Project Presents "Go Team!: The Sports Plays" at AS220's Blackbox, 7 pm, Pay what you can
Sun Bears, Prism, Skunk Jesus, and Hungry Freaks at AS220 Main Stage, 9 pm, $6
8/1
Stars and Night Sky at Providence Children's Museum, 10 am, Free with Museum admission of $9.00 per person
ALEX AND ANI Sunday Jazz Series at Carolyn's Sakonnet Vinyard, 1 pm, $10 per car
Manton Avenue Project Presents "Go Team!: The Sports Plays" at AS220's Blackbox, 2 pm, Pay what you can
Traditional Irish Music Session at AS220 Bar & FOO(D), 4 pm, Free
August Gallery Reception at AS220 Galleries, 5 pm, Free
AS220 Main Gallery at 115 Empire St.: Sonny With a Chance of Clouds: New Photographs by James "Sonny" Walker & BITTER/SWEET: New Photographs by Brittany Marcoux
OPEN WINDOW: Girl Talk: New Paintings by Sarah Samways
CABINET OF CURIOSITIES: Embroidered Stories: New Work by Chloe Cooper
AS220 Project Space at 93 Mathewson St.: Bird's Eye View: New Work by Mara Metcalf
AS220 Reading Room: FAB ACADEMY Year End Review
Resident's Gallery @131 Washington St.: Upcycled Life: new work by Steve Duque
Top 5 Fiend Presents: Morris & The East Coast, The Quins, Wild Sun at AS220 Main Stage, 9 pm, $6
Improv Jones at AS220 Black Box, 10 pm, $5
RI Peoples Assembly: Emancipation Day Festival at Temple of Music Roger Williams Park, 12:25, Free
8/2
Core Workout with Daniel Shea at AS220 Live Arts Dance Studio, 9 am, $5
Beginner Ballet at AS220 Live Arts Dance Studio, 10:30, $13 per class/$60 for 6 classes
Intermediate Ballet w/ Stephanie Albanese at 95 Empire Dance Studio, Noon, $13 per class/$60 for 6 classes
THE EMPIRE REVUE PRESENTS "THE OCEAN SHOW" at AS220 Main Stage, 8 pm, $10
I Eat Rocks / Mis(s)invader / Sauna Heat / Vanilla Function at Aurora, 9 pm, $5 (18+)
8/3
Intermediate/Advanced Modern Dance at AS220 Live Arts Dance Studio, 6:30 pm, $13 per class/$60 for 6 classes
TOP 5 FIEND PRESENTS: Warbler Roost, Accidental Seabirds, Community Center, John Faraone at Psychic Readings, 9 pm, $7
"THE SOCIAL AVENGER" A reading written and directed by LENNY SCHWARTZ at Arctic Playhouse, 8 pm, $10
8/4
Rhode Island International Festival Opening Night at PPAC, 7 pm, $15/$50 for Gala Event also
Stretch & Strength at AS220 Live Arts Dance Studio, 12-1 pm, $5
Open Life Drawing at AS220, 6 pm-8:30, $6
Intermediate Ballet Class with Danielle Davidson at AS220 Live Arts Dance Studio, 7:15 pm-8:45 pm, $13 per class/$60 for 6 classes
OPEN Sewing Circle * a night of making things * at Psychic Readings, 9 pm, Free
wichita, small talk, he heard footsteps at AS220 Main Stage, 9 pm, $6