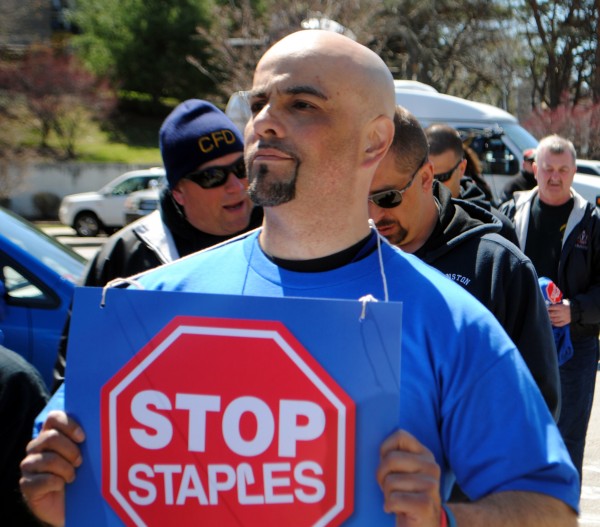 On Thursday, organized labor groups across the country protested in an effort to call attention the proposal to install US Postal counters in more than 1500 Staples stores across the country. Unless this deal is stopped, the net effect will be that personal and business correspondence and packages will soon be handled by a rotating cast of barely trained minimum wage employees instead of by fully trained and well-paid professionals. More good paying jobs that support families will vanish from our economy.
That this is just another outrageous privatization scam and undisguised corporate theft should be obvious.
In Providence, over 100 union members, family and supporters organized outside the Staples on North Main Street to let the public know about this shady backroom deal. Given that Staples is controlled by Mitt Romney's Bain Capital, the entire scheme seems like a conservative consolation prize to the guy who spent too much of his own money in a hopeless campaign for the presidency.
The united States Post office is our post office. Benjamin Franklin was the first Postmaster General, and our right to a properly functioning government post office is built into the Constitution.
We are all going to miss the US Postal Service when it's gone, so fight for it now.