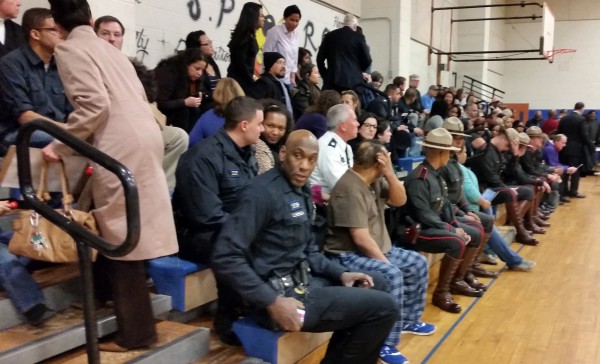 Last night's "New Beginnings Community Outreach Forum: A Follow-Up to the Ferguson Decision" at the South Providence Recreation Center was an attempt by the RI State Police and the Providence Police Department to reach out and establish a dialog with community groups in the wake of protests held here in response to racial profiling and the events in Ferguson and Long Island.
The last time I covered an event like this, in October, the Providence Police Department was introducing 53 new police officers to the public, and about 60 members of the community attended. That event was pointed at times, but cordial. This time, at least four times as many community members were in attendance, with representatives from at least 15 community organizations, and the "dialog" was heated, exposing not only the rift between community and police, but the fractures in the community itself.
The younger attendees not only had words for the police, but seemed dissatisfied with their community leadership. There is a call for new solutions: some radical, like the abolition of police departments all together, and some moderate, like the abolition of the police officer's bill of rights in concert with an empowered citizens review board. One idea not discussed was the use of police body cameras, an issue that seemed so hot a month ago, but since the non-indictment of the police officers who killed Eric Garner, whose death was caught on video, police body cameras seem kind of pointless.
For the most part, rather than a dialog, those in attendance were treated to a series of monologs. Community members and police seemed to be speaking at each other, declaring grievances or defending policies. During the program, and for a short time afterward, I saw actual conversations occurring between the community and the police, but these were smaller one-on-one interactions.
Providence Police Chief, Colonel Hugh Clements, while defending his police force overall, acknowledged that things sometimes go wrong, and several times used the phrase, "Can we do better? Yes we can." Colonel Steven G. O'Donnel represented the RI State Police.
In selecting the videos below, I tried to highlight voices I hadn't heard before.
---
"I don't see it as policing, I see it as the criminalization of communities… It's not you personally, you guys as human beings, it's the racist institution of the police that's built upon this racist state, the United States of America. Built upon genocide, built upon slavery of all our ancestors, black and brown people here in this room, and so you guys are just a manifestation of that racism…"
"My question is about community policing. My understanding is that we do not currently have a model of community policing…"
"When I asked all the officers, and this was about 67 new recruits, about seven of them were from Providence. The rest are from other parts of the [state]. And I said, 'Why do you guys all want to come work for Providence?' and all their [answers] was, "Because that's where all the action is.'"
"What do I tell my black students, my Latino students… when they get to class late… not just driving, but walking…" because the police have pulled them over for no reason.
"I think just today I was reading an article about people of color being pulled over much more frequently than people who are not of color, people who are white…"
"Of the 52 new recruits, how many were Southeast Asians?"
"I believe there were two."
"Are you sure they were Southeast Asians?"
"I'm not positive. I'm not prepared to answer that."
"I get stopped all the time by the troopers… More than three times they've tried to open the car and get into the car without a warrant.."
"Most media here is white. There's no media representing us. No media. And I'm going to say that because watch when people report out, it is not going to come out like it's supposed to come out…"
"They put me on the ground, in my driveway, with my children looking out of the window, this was in 2010, telling me that I did not live here, 'you cannot afford to live here'…"
"I remember when I was about 5,6,7,8 years old and the Providence Police Department, you guys used to do that Bike Safety Drive… and I remember thinking that the police officers were on our side, and that you guys cared for us… so, at what age does a young person of color have to be for you guys to stop caring about us?"
---
---
Support Steve Ahlquist!
Video: New voices at the State Police community outreach forum

,