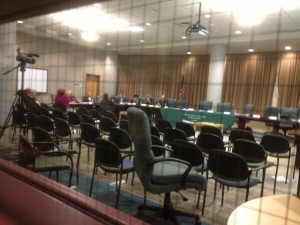 Steve Brown, executive director of the RI ACLU, sent word to Patrick Guida, a member of the Board of Education and chairman of the ad hoc committee studying high stakes testing, that confusion over the waiver process proves it's high time to reconsider the controversial NECAP graduation requirement policy.
"It is important for the Committee to realize that, as things currently exist, the waiver process is, in many instances, a completely arbitrary hodgepodge of inconsistent, incomplete, and poorly advertised policies that can only leave students and  parents understandably anxious and perplexed," Brown wrote in his letter.
In a subsequent phone interview, Guida said, "I have great respect for Steve Brown and am taking the letter very seriously" but added that he wanted to discuss the issue with committee members and Chairwoman Eva Mancuso before commenting on the letter. "As a board member I vote in favor of the assessment and still believe we need some form of assessment, but I am also very sensitive to the issues going around."
The latest issue with the NECAP graduation requirement is the waiver process he state asked cities and town to develop for students who don't pass the test.
Brown said in his letter: "Approximately two and a half months ago, the ACLU filed an open records request with all school districts to obtain a copy of their waiver policy as well as any documents related to its implementation, including any notice or instructions provided to parents or students about it and any forms that must be completed for a student to apply for a waiver. Such information is, obviously, essential for any meaningful waiver process, and required by RIDE's guidance and regulations. The results of our request, however, were less than encouraging."
You can read Brown's entire letter here .
Waiver chaos sparks ACLU to ask Guida to suspend NECAP policy

,