GAZIANTEP, TURKEY — There is a long history of exchange between the southeastern Turkey and northern Syria.  Before the peaceful revolution in Syria turned into a civil war, roughly 40,000 Syrians would cross the border to visit, go shopping, and do business in Gaziantep, one of the largest cities in the area.  Now the Syrians who come to Gaziantep are coming to escape the violence in their homeland.
One such person is Hala. She is 21 years old, with rosy cheeks and long, black, curly hair.  She speaks with matter-of-fact style, and she is wise beyond her years.  When the revolution started she was a student in the Fine Arts department at the University of Aleppo.
She paints, makes small documentaries, and takes photographs but singing is her passion.  She participated in the Syrian revolution as an activist, peacefully protesting, creating protest art, and supporting her friends and family who were put in jail for their peaceful activities.  She arrived in Gaziantep four days ago with her family, and they are staying with friends until they can find a place to live.
In her words:
I still feel disappointed inside of me because I left.  I didn't want to leave, I want to be in the street.
The hardest thing to remember is that Syria is not just the land, it is flesh and blood, people fighting for freedom and they didn't even know about freedom before.  Syria is not just the houses and the streets…we need time to recognize how to breathe this new air.
People who are not under this stress, they don't feel the same anger.  That's normal.  When you shout, they ask you to calm down.  I'm so disappointed and tired because I'm away from my homeland.
When I first got to the University, the revolution started.  I began to take photos and make little documentaries of things people were saying.
  To do anything in Syria is so tough and hard – even before the revolution it was hard.  If you just tried to remove the trash from the street, people would ask, "Why are you doing this?
I am a political person.  I don't want to do anything unless it has a point, so when my friends and I made music, it was political.  We got arrested because of that.  There is a famous song about the revolution.  We knew we couldn't sing the words in public.  We went to the central square of the University of Aleppo and we just played the melody.  They [the government security forces] arrested us because of it, and I lost my friend.  They killed him when he was in jail.
After that, they would call me on my cell phone and tell me, "You will be killed, you will be shot.  You need to stop what you are doing."  I changed my number several times, and they continued to call.
At the same time, my father was in jail, we didn't know where he was being kept.  After that I freaked out, I didn't have anything to lose. 
After my first year of college [the security forces] told me they'd arrest me if I continued my studies.  My father had just got out of jail.  He was alive! But I saw lots of marks on his body.  I thanked God he was home.  But like all Syrians in the revolution, he went back to being active again right away.
We had to leave.  We went to our village, about 47 kilometers outside of Aleppo.  It was part of "liberated Syria", the government wasn't there.  We stayed hidden for six months.
This is almost the story of all Syrians, it is not new.  I lost so many people. Friends, cousins, acquaintances – nearly 100 people.  They got arrested, they got killed, they got shot.  I thank God my father is still alive but he might die anytime. 
I'm not different from any Syrian.  We need freedom.  We must pay, we pay with our lives.  Sooner or later we will get it.
My dad was active in politics since he was 18.  He was arrested many times so this was nothing new.  My mother is also very active.  This is the way they got to know each other.  They met through politics and fell in love.  This is the happy part of the story.
 I've grown up with this idea that one day I may get arrested.  If you are active in politics in Syria, why wouldn't you be?  My father is my best friend in the world, I sometimes don't even refer to him as dad, but by his first name.  Sometimes we would fight over certain points, but I never felt he would not love me.  Maybe this is why I became who I am.
I asked Hala: Are people in Syria tired of the fighting, do they just want it to end?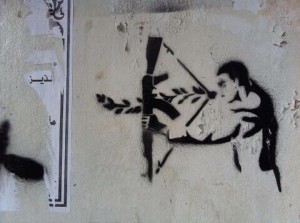 Hala said:
Yes, people are very tired.  That 60,000 people have died is not true, it is more like 200,000.  There is nothing in Syria, everything got destroyed.  But when you lose a father, a brother, a sister, a daughter, you cannot go back.  You have taken a step and there is no going back.  Me, you, no one can change this idea.