West Warwick Town Councilor Angelo Padula made incendiary comments about Muslims at a public meeting in May of 2013.
The city emergency manager director was informing the Town Council about a seminar on how explosives work, said town councilors, to which Padula said, "We're not going to invite any Muslims?"
Some in the crowd laughed and others applauded.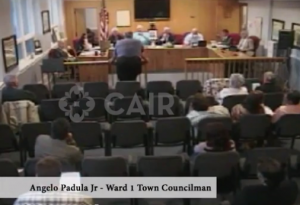 In an interview tonight with RI Future, Padula said he apologized later in the meeting. As the video indicates, he did not apologize when asked by Town Councilor David Kenahan.
"I said at the end of the meeting, 'if anyone finds this offensive I apologize," Padula told me, noting a fuller video of the meeting would show this. "It was nothing against the good Muslim people of this country. I meant the Muslims who bombed Boston. I meant this about the terrorists and nobody else. I in now way meant this to discriminate or against the whole Muslim faith."
Padula represents the West Warwick district where the Islamic School of Rhode Island is located. The school was victimized by vandalism this week with anti-Islamic graffiti like "Fuck Muhammad" and "Now this is a hate crime." The FBI is investigated the crime as a hate crime and a civil rights violation.
"That school is in my district," Padula said. "We've never had any problems with them people." He told a story about when the Islamic School let the community use its basketball court.
Padula posted this to his Facebook wall about the video.
Town Council David Kenahan is the voice in the video asking Pedula to apologize. A physics teacher at Cumberland High School, Kenahan said in an interview tonight, "I thought it was inappropriate and offensive. As a Council we speak as a group and I didn't think it was fair that we would get lumped in with that."
West Warwick Town Councilor made public anti-Muslim remarks in 2013

,