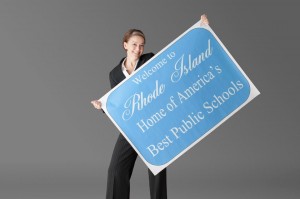 With all the fuss about high stakes testing, the biggest shame is that the Department of Education is telling us that the measure is the answer. A ruler never helped anyone grow an inch.
Something other than the test needs to be looked at when 64 percent of the Hispanic or Latino population will not meet the present requirements to graduate. Something needs to be looked at when the same percentage of black students will meet the same fate. In the city of Providence it is much worse for these two populations (71% and 69%).
Statewide, 58% of economically disadvantaged students are in danger of not graduating high school.
90 percent of Limited English Proficiency students are at risk; and 97 percent in Providence. 83 percent of I.E.P. students did not achieve proficiency on the math NECAPs. An even more staggering 94% of Providence kids will not pass the same measure. In East Greenwich, a district that does well on standardized tests, 73% of the district's I.E.P. students are in danger.
Minorities, special needs, Limited English Learners and the poor – sounds a bit alarming to me. Wasn't the intent of those so-called reforms to help these guys? Just what are we 'racing to the top' of? It looks like a volcano to me.
What are we racing to the top of?

,