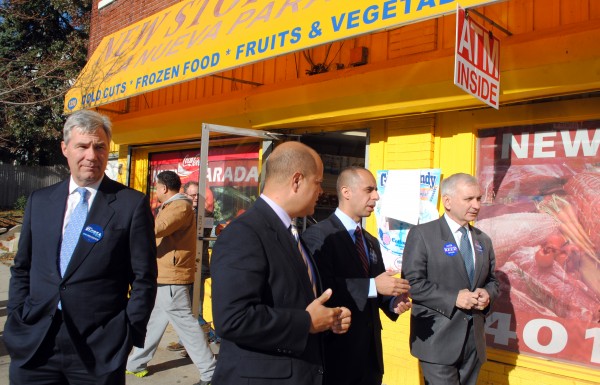 Providence Mayoral candidate Jorge Elorza campaigned on Broad St. Monday afternoon in the company of Senators Jack Reed and Sheldon Whitehouse, visiting businesses and glad-handing pedestrians along the way. State Representative Grace Dias led the tour and State Senator Juan Pichardo came along for the stroll.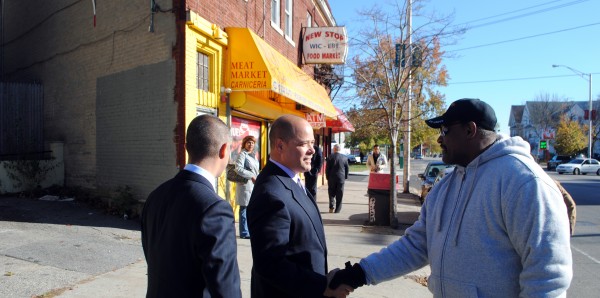 Closer to downtown Providence, also on Broad St., Buddy Cianci, the once and (he hopes) future mayor was followed by a small group of reporters as he campaigned, but I was more interested in watching Elorza take half of Rhode Island's congressional delegation on a tour of a vibrant, yet financially struggling part of the city.
Cianci, in my estimation, is willing to say anything to anyone in the hope of getting a vote. Elorza, by contrast, is running as a progressive, and I am interested in seeing how he navigates issues such as class and economic inequality under that identifier.
Traditionally, people from struggling communities like South Providence have been underserved by the political class, who only show up every couple of years to secure the votes needed to keep their jobs. Yet ironically it is these same communities that often have the power to determine election outcomes. Elorza and Cianci both know this, which is why they are campaigning so hard here, but this truth is not lost on those in the community.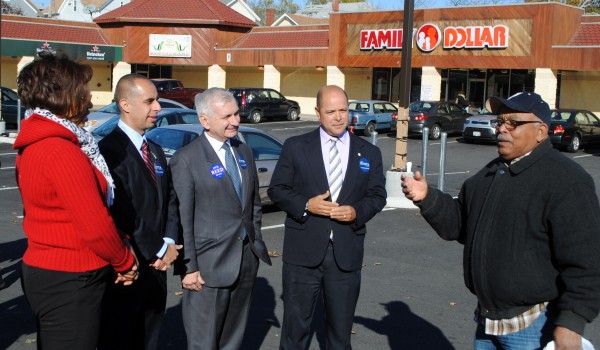 "He's just complaining," said Representative Dias, roughly translating the words of a man who stopped the delegation in the Family Dollar parking lot. In Spanish, the man had asked Elorza and the senators if they will be out walking in his neighborhood when his vote wasn't needed. To be fair, Dias wasn't being condescending in dismissing the man's question. The political reality is that these visits are made to secure votes and listening to the concerns of voters is a secondary consideration.
But still, the man's question implied an important point: Providence mayors too often get bogged down in developing projects downtown, or dealing with issues of interest to the East Side and Brown University. When money is tight, services are cut, and those services aren't always central to the well being of most East Side residents and college students. Instead, service cuts, like the brunt of economic downturns, affect the poorest communities disproportionately.
So what the man seemed to be asking was, "If I am there for you with my vote tomorrow, will you be there for my community as mayor?"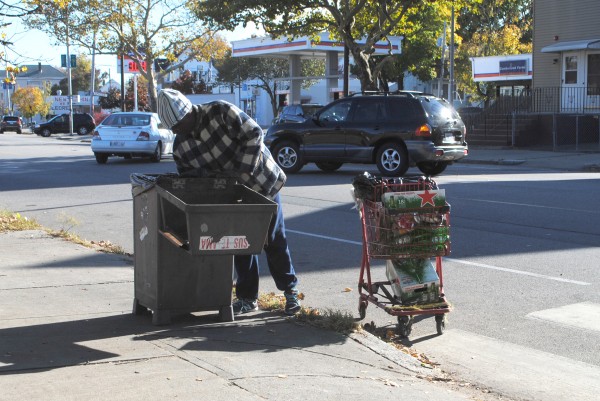 As Elorza and his supporters continued to walk door to door, currying votes from business owners and workers, they focused on likely Democratic voters, bypassing businesses that had large signs supporting Cianci or Republican gubernatorial candidate Alan Fung. They also bypassed people like this man, collecting plastic soda bottles from trash cans.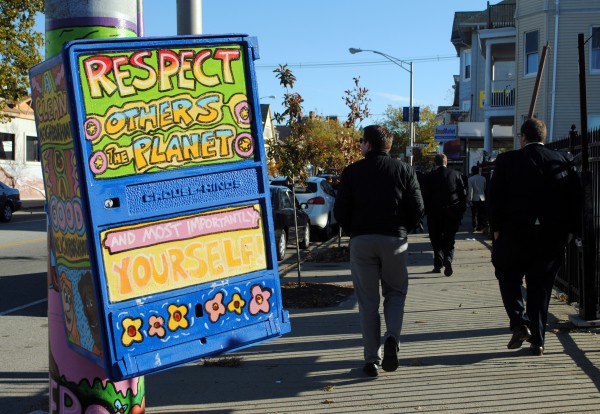 After all, the clock is ticking, and the mayoral campaigns needs the support of engaged voters, not the marginal, the forgotten and the underclass. As Elorza's campaign passed by, the man didn't look up from his shopping cart and trash can. There are two worlds here: the world of the political campaign and the world we live in. Rarely do these worlds communicate, which is a shame.
I hope Jorge Elorza will be the kind of mayor who tries to close that communications gap.