Senate President Teresa Paiva Weed wants to explore the possibility of a statewide teacher contract this session. So we got to wondering if there is any rhyme or reason to how the many varied school districts across Rhode Island compensate educators.
There doesn't seem to be, according to data from teacher contracts provided by the Rhode Island Association of School Committees (some districts missing). Alex Krogh Grabbe created these two charts showing the highest-to-lowest teacher-paying school districts in 2013 and 2014. The first chart shows rookie salaries and the second shows senior teacher salaries for all districts that submitted data to RIASC.
It seems we want our best teachers in the school districts where students need the most help – those in the urban areas – but there doesn't seem to be a consistent financial incentive to attract teachers to these districts, or to keep them there long term.
It's great that rookie teachers in Central Falls are well paid (or paid better than other teachers in Rhode Island). Providence, Pawtucket and Woonsocket should strive to compensate their teachers similarly. However, Central Falls is a state run school district so all of Rhode Island is paying those contracts; the other urban areas simply don't have the taxing capacity to compete.
This is one reason a statewide contract would be beneficial. As a state, we can determine which teachers should be best paid based on need rather than allowing community wealth to dictate these decisions. This is critical because community wealth is a great predictor of student achievement. So if and when we allow tax capacity to dictate teacher salaries we are exacerbating the education gap rather than working to reverse it.
Worth noting I think is that the Department of Education doesn't keep teacher salary data. This is especially surprising given the recent focus on teacher evaluations, as it seems folly not to consider pay when considering performance.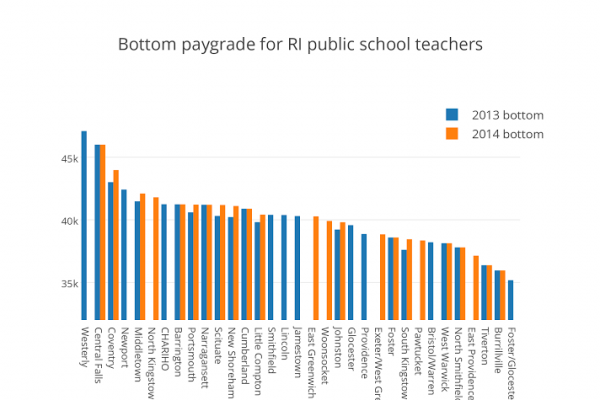 Where are the best-paid teachers in Rhode Island?

,