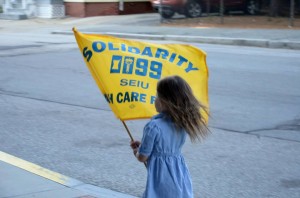 Health care workers, 1199 SEIU Rhode Island members and allies will hold an informational picket at Women & Infants Hospital, a Care New England hospital, to protest Care New England's failure to invest its resources toward quality patient care and staffing.
Corporate management decisions by Care New England are hurting quality care, patient satisfaction, and the Rhode Island economy – and damaging the stellar reputation that Women & Infants has built up over decades.
WHEN: Thursday, January 15th, at 3:30 p.m.
WHERE:  Women& Infants Hospital, 101 Dudley Street, Providence, Rhode Island
More Background:  Management at Care New England, led by CEO Dennis Keefe, has focused their efforts on expanding the Care New England network by affiliating with and sinking money into new facilities.  However, patient satisfaction and staff morale at the hospital are down, due to a lack of investment in staff and quality care.
Since 2011, the hospital has consistently brought in out-of-state "Traveler Nurses" instead of hiring local nurses for permanent jobs.  These temporary travelers, who are unfamiliar with the hospital, have likely driven down patient satisfaction and quality outcomes.
According to the independent patient-satisfaction auditing agency Press Ganey, patient satisfaction has generally been down since Keefe took over in 2011.  Yet despite these worsening outcomes, CEO pay is up.  In 2012, the most recent year for which data is available, Keefe made $1,049,426 in total compensation.
Keefe's decisions to sink money into expanding the network, refusal to hire more permanent local staff, and million dollar salary have all come at the cost of reinvesting in the hospital and achieving high quality outcomes for patients.