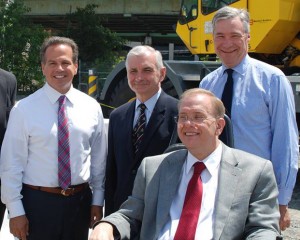 Senators Sheldon Whitehouse and Jack Reed were two of the nine Democrats who voted no on the latest version of the farm bill, which slashes food stamps by $8 billion over the next 10 years.  When the original Senate farm bill (which would have cut nutrition programs by $4 billion) passed, our Senators were the only Democrats voting no.
In the final bill, they picked up no votes from seven other Democrats, including the Senators from our neighboring states–Elizabeth Warren (D-MA), Ed Markey (D-MA), Chris Murphy (D-CT), and Richard Blumenthal (D-CT).  Because a surprising number of progressives, including Jeff Merkley (D-Oregon) and Bernie Sanders (I-VT), voted with leadership on this one, our senators' principled votes are especially meaningful.
In the house, both of our Congressmen voted no, too.  David Cicilline took to the floor to deliver one of his best speeches yet, deploring the cruelty of cutting anti-hunger programs.
Although we lost this battle, because our delegation put up such a hard fight, they almost certainly kept the cuts from being even worse than they are.  They deserve our gratitude today.
Whitehouse, Reed vote no on food stamp cuts in farm bill

,