For the Chafee family in Rhode Island, support for access to reproductive health care and family planning services was part of the proud legacy of a now bygone Republican era. However, our newly-Democratic Governor Lincoln Chafee has an important opportunity to make his own mark on this issue. The  Chafee Administration should expand the state's family planning program in 2013 to cover more low income women both with (and without) children, and to provide life-saving cancer screenings, birth control and annual gynecological exams. Given his family's longstanding support, implementing a modest program that will curb unintended pregnancies and save the state millions of dollars, should be a given for Governor Chafee.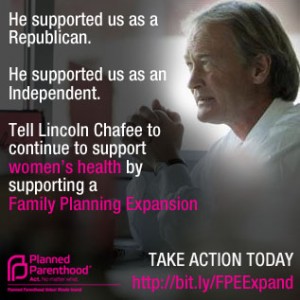 The Governor can expand the family planning benefit to include more Rhode Islanders by including it in the Medicaid Global Waiver that will be submitted later this summer to the federal government for a five-year renewal. In recent weeks, public health advocates have repeatedly asked the administration to expand the program this year, but to date, we haven't heard the positive response we would have expected.
A broad coalition stands strongly behind this initiative including Planned Parenthood of Southern New England, March of Dimes, Economic Progress Institute, Women's Fund of Rhode Island, American College of Obstetricians and Gynecologists, RI Medical Society, RI Primary Care Providers Corporation and the RI Coalition for Reproductive Justice, among others. Over 40 Rhode Island physicians cosigned a letter in support of this program as well. We are not aware of any opposition to this program.
If politicians want to support preventative health care as well as reduce unintended pregnancies in Rhode Island, they should expand access to the state's Medicaid family planning program. Currently, Rhode Island covers family planning services only for Medicaid recipients who deliver babies, for just two years post-partum. After that, low income women lose access to basic reproductive health services, annual exams, Pap tests, breast exams, testing for sexually transmitted infections, and yes – contraception which helps space their families. With over 62,000 women in need of publicly supported contraceptive services in our state, and a projected cost savings of $3.74 for every $1 invested in family planning, this program is a win-win for a state that's been on the losing end of this fight for too long.
Governor Chafee, the women of Rhode Island need you to take the next step in your family's legacy of support for our health! Support greater access to family planning, and you'll make Rhode Island a healthier state. 
To contact Governor Chafee, call his office at (401) 222-2080 or email him at governor@governor.ri.gov.  Ask him to expand the State's Medicaid family planning program to include ALL women under 250% of poverty.