When Linc Chafee took me sailing last spring, we got to talking about what he'd like to do next and I suggested he put together a team to win back the America's Cup sailing championship. But it seems as if Rhode Island's recent one-term governor still has political ambitions instead. Chafee announced today he's considering running for president of the United States.
It's fair to say I didn't think to ask about that potential career move. The news was first reported by RIPR's Scott MacKay. It came in an email with the subject line, "This is real."
As governor, Chafee was pretty unpopular with the people of Rhode Island, his approval rating was around 25 percent as his tenure wound down. And he was even less popular with the local chattering class, which has by and large been eviscerating him on Twitter since the news broke.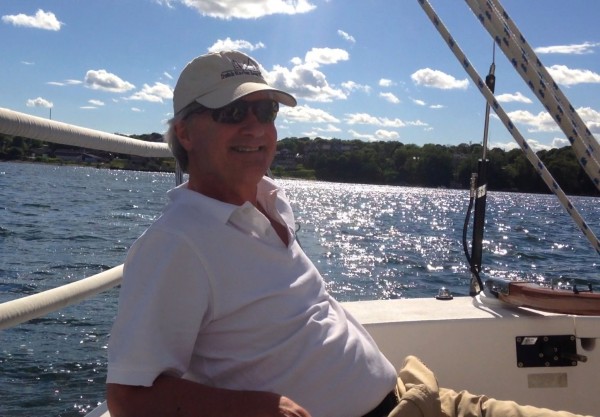 Chafee doesn't care what us pundits think of him. I don't even think he cares how ultimately unpopular he was among his constituents. I think he cares that he did right by Rhode Island during his tenure as governor. And I'd even go so far as to say he may even believe it is on those merits for which he should be judged worthy of higher office.
That may well be politically naive. But it's also a pretty impressive way to live, especially if your life is running for office. Isn't this ultimately the first thing we want from any elected official, that they act according to their conscience rather than the prevailing political winds?
Most agree that this is a great personal strength of Chafee's. He did what he thought was right regardless of political fallout or his own political ambitions. I think we all want to live this way, though few of us want to deal with the fallout.
Maybe the fallout didn't do Chaffee any favors, either. His carefree approach to public opinion probably won't win him many votes. And it probably even diminished his ability to govern. In some ways he had this sort of reverse bully pulpit, where anything he said became toxic.
Still, nobody does substance over style better than Linc Chafee. And I think politics desperately needs more substance and less style. The political scientist in me doesn't think he has a snowball's chance in hell of being the next president of the United States. But the sailor in me still wishes America had more captains like Linc Chafee.
Why I love that Linc Chafee wants to run for president

,