Over on the Facebook, dude of awesomeness Peter Hocking shared Ted Nesi's blog post about the continuing deterioration in the Projo's circulation. Surprisingly, their web traffic is also down and down hard. Call it 30%.
You know me; I wrote a snarky comment about how newspapers have nobody but themselves to blame for their predicament. That comment raised the ire of one Linda Borg, a Projo journo. (That link is to Ms. Borg's LinkedIn page. If you click her name on the Projo website, it opens an email to her instead of a profile page that would have a short bio and a listing of her work. That is nine different kinds of stupid. More on this later.)
Some of her not-particularly nice comments about yours truly inspired this post. And my point here is not to excoriate Ms. Borg, but to win her over to what I would call "a more modern way of thinking about these things".
My Newspaper Website Bona Fides
As longtime readers might remember, I spent about a decade as an early employee and later as a consultant building up a newspaper services company that is well known at the Projo and its parent, Belo Corporation. Our goal was to help papers get more ads, but as the resident "netizen", I spent a lot of time trying to explain to the papers what this wacky Internet thing was all about.
My short answer circa 2000: It's your future.
The papers didn't care for that answer or any of the follow-on advice I offered. They didn't care for it one little bit. More than once conversations devolved quite badly.
Eventually, I gave up. Most of the webby types that try to engage newspapers end up in the same place. Clearly, the Internet – and particularly "Web 2.0" – is a space that challenges virtually every core tenet of what it means to be "the paper of record".
Newspapers and the Internet: A Brief, Skewed History
Granted, I'm not at all objective about this issue. I wanted to be the guy that taught newspapers how to be successful in the emerging, user-centric space that was known back then as Web 2.0. I was not, but neither was anybody else.
Here's why: newspapers know everything. Including how to be successful businesses on the Internet. No matter how much data I brought to bear, no matter how many examples of proven, successful approaches I presented, the papers knew better.
They resisted mightily the concept of allowing "reader comments". (Um, they're called "users".) And they positively ruled out the possibility of direct editor/journalist-to-user interaction. At best, they would implement the easily-gamed user voting form of moderation. Oh, and a lame ass and never enforced "be nice" note at the top of the comments.
The netizens predicted that newspapers that allowed unmoderated or lightly moderated commenting would rapidly devolve to a lowest-common-denominator form of discussion. Our experience from building, you know, the Internet told us that it takes tremendous effort to create a space where more-or-less intelligent, more-or-less civil conversation could occur.
NEWS FLASH: We were right.
The Cesspool
I'm virtually positive that my reference to newspaper website commentary as "The Cesspool" is what set off Ms. Borg's relatively mild indignation. I did not coin the phrase but picked it up from a 2009 post by David Brauer, a Minneapolis alt-weekly reporter and blogger on the media scene out there. (For comparison, click Mr. Brauer's name in the link. Three guesses what it opens…)
The cold, hard truth is that the term is apt. Newspaper commentary – unmoderated or lightly moderated – is a wretched, wretched space; no self-respecting netizen will wallow in it.
So it should come as no surprise that newspaper websites cannot aggregate any level of "stickiness", that is time spent, pages per visit, etc. I have parsed a giant number of Audit Bureau of Circulation circulation reports, Newspaper Association of America reports, and pretty much any data source for newspaper performance. While they were able to grow unique visitors and numbers of visits, their engagement metric barely moved. (The image below is a chart from what looks like a late 2009 analysis I did. Overall NAA newspaper website performance for 2009 in a word: flat.)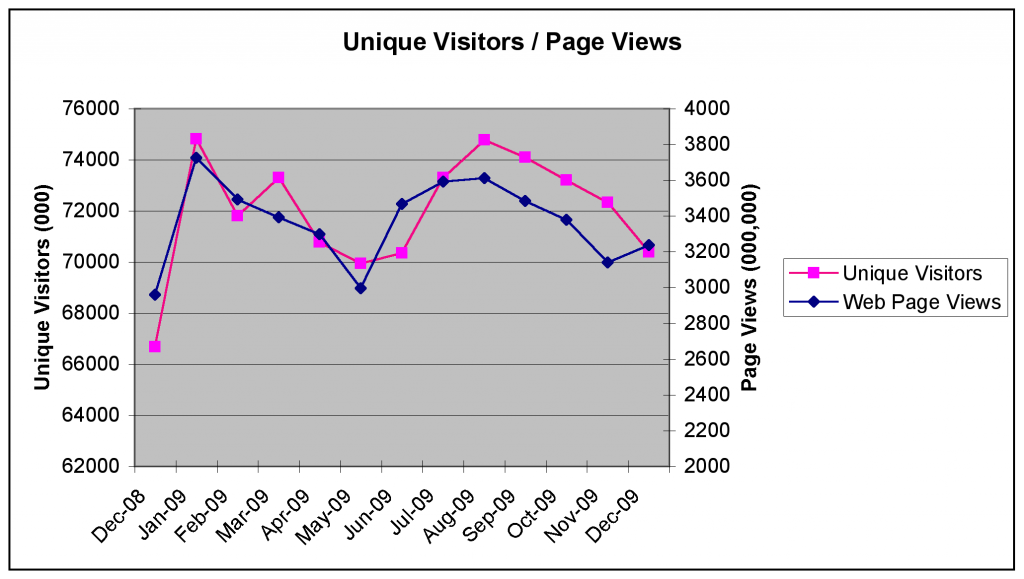 And now, perhaps, the base metric – unique visitors – might be deteriorating as well.
I'm shocked. /sarcasm
Let's Talk, Shall We?
Readers know that I'm not a big fan of the views of some of the commenters on RI Future, but I'll give them all this: they're here to debate. It ain't always the most eloquent discussion, but at least it's more-or-less smart people talking more-or-less on topic. And commentary here stands in marked contrast to that on the Projo site.
In all fairness, Projo's commentary is better than, say, MarketWatch or the NY Post. But it's not anything like what we have here or what we used to have on Urban Planet when that discussion forum was HAWT. (UP was the best discussion space I've seen in the PVD area. Woneffe, where have all the good times gone?)
The point is, there's a well-known, easy-to-implement and documented, like, infinity times technique to creating a good conversation space. I can sum it up in one word: ENGAGE.
Odds are pretty much 100% that I will personally respond to comments on this post, and I certainly hope Ms. Borg is amongst the commenters. Other authors and our EiC Mr. Plain might be so good as to weigh in as well. It's all to the good.
But the "professional" sites simply don't allow editors, journos or other authors to participate in discussion. And because neither are they present to set the tone nor do they empower others to do so in their stead, they get what they get.
I don't say this to be mean and I don't say this in ignorance: the decisions that newspapers make about engaging on the Internet are directly responsible for their inability to thrive in a space where they should.
As Mr. Hocking says, "It's heart-breaking." If I seem cavalier and bitter, it's because my heart was broken more than a decade ago.
Why the Projo Has Nobody to Blame But Themselves

,