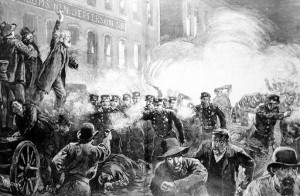 One topic that has been on my mind lately is the attempt to kill the 8-hour workday.
In many places in the private sector, anything less than a 10-hour day is derisively referred to as working  "half-a-day".
Purely by accident, I learned the May 5 is the anniversary of what is called the Bay View Massacre in Milwaukee, Wisc.
The gist is that on May 5, 1886,  seven people, including a 13-year old boy, were shot and killed by National Guardsmen during a strike.  The workers were striking for an 8-hour day.
The account on Wikipedia is pretty short.
http://en.wikipedia.org/wiki/Bay_View_Massacre
The strike started on May 1, with about 7000 workers.  By May 4, the number had swollen t0 14,000.  (I'm guessing that both numbers probably included sympathy protesters.)  At that point, the Republican governor brought in 250 Guardsmen.  The next day, he gave the order to "shoot to kill" any workers who tried to enter the grounds 0f the Milwaukee Iron Company, where the strikers worked.
On May 5, the strikers/protesters attempted to enter the grounds, and the Guardsmen opened fire.  Seven people died.
This is the history of labor. Capital and property were often protected by deadly force. Capital held a monopoly on the force of "law and order", so the latter were used, almost exclusively, to prevent workers from attempting to organize.
Given that Capital had a monopoly on the law, it's a bit silly to suggest that workers had any sort of leverage or clout to negotiate better conditions on the basis of individual contracts.  Yet this, I believe, is what the 'right to work' position suggests: that unions interfere with the ability of a company to enter a contract with an individual worker.  Correct me if I'm wrong.
But the point is, when Capital controls the law, the worker has no basis for negotiation. A real, live, effective negotiation requires that both sides have something the other side wants. If  a company is able to fire any worker asking for a better deal, there is no way to suggest that anything like an equal balance exists between the two negotiating parties. The company holds all the cards.
The only way workers can deal in anything like equal negotiations is if the workers are organized. That way, the company has some incentive to accept that workers have something like a roughly equal bargaining position.
In a world where even lawyers are finding themselves expendable, outsourceable, and lacking in bargaining power as they look for jobs, it's really kind of silly to suggest that straight wage earners can negotiate with employers for better terms.  In fact, this is one reason Republicans have fought Obama tooth and nail trying to derail any attempt to stimulate the economy: employers love it when unemployment is north of 8%. That effectively kills all 'wage pressure.'
This means you get circumstances like we have: high unemployment, low wage growth, but phenomenal profits for corporations and executives.  Just like we had in the 1880s.
And, as we've seen, Capital was willing to kill to maintain its position of dominance.
This is why I so vehemently object to current Republican policies: we tried it. People died. It didn't work, unless you were a plutocrat. Create the same conditions, chances are we'll get the same outcome.
May 5, 1886: The Bay View Massacre in Milwaukie, Wisc.

,