Charon Rose, deputy field director for Jorge Elorza's mayoral campaign, was elected the next president of the Young Democrats of Rhode Island at the group's annual meeting on Saturday. Rose, who is a native of Providence's Chad Brown neighborhood and an alumna of Classical High School and Rhode Island College, also co-chairs the New Leaders Council RI Chapter.  Outgoing YDRI President Mark Gray did not seek re-election.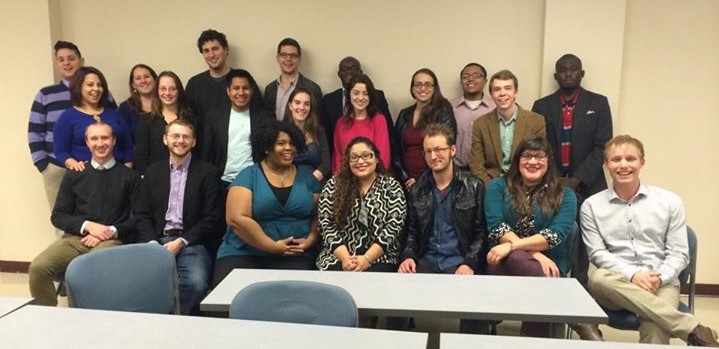 On Saturday, the Young Democrats of Rhode Island held their annual convention at URI's Feinstein campus in downtown Providence. Since 2010, YDRI has grown substantially, with over 100 active members in 2014. Participants hailed from a broad array of backgrounds, ranging from campaign staffers to concerned citizens, and from newly-elected legislators to progressive activists. Attendees were united by a shared commitment to improving Rhode Island's government—especially for young people—and most of the day's dialogue focused on actions that could be taken to enact those improvements.
The convention also featured a discussion on YDRI's legislative priorities for 2015. Attendees split into three groups to identify and discuss young people's most pressing legislative priorities. When the groups came back together and shared their priorities, there was significant overlap of issues between groups, focusing on economic equality, social justice, and environmental justice. Discussion repeatedly turned to issues of racial profiling, police relations, ending drug prohibition, and supporting economic growth for young Rhode Islanders via topics like college affordability. YDRI looks forward to continuing to build its membership base for action on these issues in 2015.
Over the coming months, the group will engage with partner organizations, with the goal of rallying advocacy efforts for those initiatives.
Speakers at Saturday's annual meeting included:
Outgoing YDRI President Mark Gray, who gave a compelling exit address regarding YDRI's achievements and the priorities he would like to see the group approach in the future
Constantina Meis, who, as Women's Caucus Chair for the Young Democrats of America, updated YDRI on the efforts which the national YDA is currently undertaking regarding growing women's and minority caucuses.
Theo Groh, President of Young Democrats of New Hampshire, who shared updates on his work building chapters with the national YDA.
Theo also presided over YDRI's elections for the 2015 Board of Directors. The new Board members are:
President: Charon Rose
Executive Vice President: Zack Mezera
Vice President: Amy Espinal
Treasurer: Jordan Day
Secretary: Alex Krogh-Grabbe
Communications Director: Michael Beauregard
Membership Director: Abby Godino
Policy Committee Chair: Juan Espinoza
YDA National Committeeman: Chris Tallent
YDA National Committeewoman: Kristina Fox
Congressional District 1 Representative: Amanda Clarke
Congressional District 2 Representative: Anthony DeRose
At-Large Board Member: Representative-elect Aaron Regunberg
At-Large Board Member: Senator Ryan Pearson
To learn more about the Young Democrats of Rhode Island, visit our website.
The Young Democrats of Rhode Island is the organization for young people 13-35 who wish to mobilize on behalf of the Democratic party and to advocate for issues facing young people in Rhode Island and America.
YDRI Holds Annual Convention, Charon Rose elected president

,