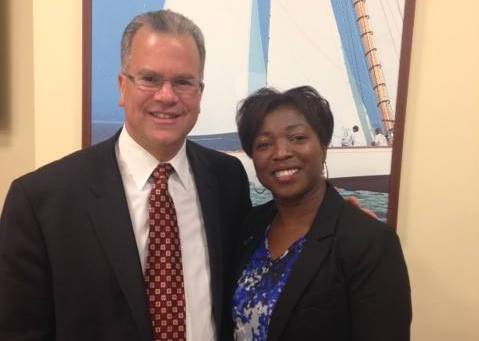 New development on I-195 lands, as well as other public construction projects, violate a state law if 10 percent of a project aren't awarded to minority business enterprises, said Lisa Ranglin, president of the Rhode Island Black Business Association.
"There is a law on the books," Ranglin said. "Put it in the contracts, or it's meaningless."
Ranglin and the RIBBA say the I-195 Commission is neglecting to enforce a 1986 law as it moves forward with selling state land to private contractors for redevelopment. "RIBBA is putting together a team of professionals, business experts and local contractors committed to full enforcement of the MBE 10% set aside within this project to be developed by PPC Land Ventures," according to a press release from the RIBBA.
A state law dictates that minority-owned businesses are to be awarded 10 percent of the value of public construction projects and procurements, Ranglin said.
RI law 37-14.1, passed in 1986, reads, "Minority business enterprises shall be included in all procurements and construction projects under this chapter and shall be awarded a minimum of ten percent (10%) of the dollar value of the entire procurement or project. The director of the department of administration is further authorized to establish by rules and regulation formulas for giving minority business enterprises a preference in contract and subcontract awards."
The law has been systematically ignored over the years, said Ranglin.
Dyana Koelsch, a paid spokeswoman for the I-195 project, could not be reached for comment (updated below). But on Twitter yesterday she said Ranglin made a "good point" about the 10 percent minority business enterprise law. Here's the exchange between Koelsch and Ranglin:
@LisaRanglin @JournalKate @projo Looks like you got some bad info Lisa. No PLA in P&S. In fact P&S specifically encourages MBE/WBE

— DyanaKoelsch (@DyanaK) December 10, 2014
@DyanaK @JournalKate @projo Key word "encourages", where is the enforcement? RI law on the books since 1986 for 10%, it never worked.

— Lisa Ranglin (@LisaRanglin) December 10, 2014
@LisaRanglin Good point. Only taking issue with the "blocking" language and the PLA assertion in your release

— DyanaKoelsch (@DyanaK) December 10, 2014
Ranglin said the RIBBA decided at a strategy meeting on Saturday to force the state and the I-195 Commission to enforce the law. "The strategy meeting on Saturday is the start of a new day," Ranglin said in a press release. "For black and minority contractors, the existing legislatively approved 10% set aside for minority and women contractors has proven to be almost meaningless in practice."
Ranglin, in an interview with RI Future, said the RIBBA is working with NAACP legal experts om how to force the state to comply with the law.
"We're going to be out there in full force to make sure our community is thriving," she told RI Future. "People in under-served communities, are stories are never told because we're not powerful."
But, she added, "We're on the right side of the law here. It's right there in black and white."
Attorney General Peter Kilmartin's office was contacted for an opinion on whether the I-195 Commission needs to comply with this law. The Secretary of State office's and the city of Providence have also been asked for data on historical compliance. This post will be updated if and when they respond.
UPDATE: Dyana Koelsch sent this statement on behalf of the I-195 Commission:
The 195 Redevelopment Commission explicitly encourages the participation of MBE/WBE firms in the development of The LINK. This is reflected in the Purchase and Sale Agreement with Lincoln/ Phoenix Properties and its affiliate firm, "Friendship & Clifford" which is the developer of Parcel 28.

The Commission welcomes an open and productive dialogue with the Rhode Island Black Business Association regarding its concerns. By way of a correction and clarification, the RIBBA incorrectly stated the P&S includes a Project Labor Agreement. It does not.  The P&S, which is public record, does include specific language on the  utilization of MBE/WBE resources, firms and employees. The text of Paragraph 13 from the P&S is included below:  
PURCHASER'S AGREEMENT REGARDING CONSTRUCTION AND DEVELOPMENT OF PROJECT.

Purchaser agrees in connection with the development and construction of the Project that it will endeavor to employ and source from Rhode Island-based firms and employees to the extent reasonably possible. Purchaser also agrees that it will use its best efforts to employ minority- and women-owned firms and contractors to the extent reasonably possible and to encourage any contractors or subcontractors to do the same. Purchaser will register job vacancies as it deems appropriate with the City of Providence Department of Economic Development for inclusion in their First Source database and further agrees to use its best efforts to fill job vacancies with minority and women candidates from the First Source List. Notwithstanding the foregoing, Purchaser shall comply with the provisions of each and every term of the Tax Stabilization Agreement with respect to employment of Rhode Island residents, minorities and women.