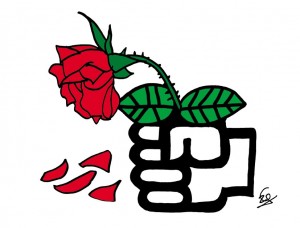 Perhaps God, in a clever bid to tell me He exists despite my secularism, deemed in his Almighty wisdom to hit me with a cruel double-whammy this past weekend by putting a NCAA tournament downtown, making thousands say in unison how much they love Providence, while in the midst of a presidential primary that suddenly has New Deal Liberals saying they are Socialists.
The lines of Jonathan Edwards, the ghastly Puritan preacher who scared the bejesus out of a generation with his 1741 Sinners in the Hands of an Angry God, seem like they were written just for me! There is no want of power in God to cast wicked men into hell at any moment. Men's hands cannot be strong when God rises up. The strongest have no power to resist him, nor can any deliver out of his hands.-He is not only able to cast wicked men into hell, but he can most easily do it. 
Oh the joys of being young and in La Prov!
Let's just start with a basic fact, just what exactly is the Democratic Socialists of America?
As I have written elsewhere, the DSA was created in 1982 from the remains of several defunct socialist parties, including the one of Eugene V. Debs and Norman Thomas. But when Michael Harrington and Irving Howe got to it, they tried a new approach, instead of running candidates they decided they would use an Old Left tactic of entryism, suggesting that the surviving Old and New Lefties from the previous five decades enroll en masse in the Democratic Party and push it Leftwards in the face of the neoliberal behemoth called Reaganism.
This strategy was a total failure for two reasons. First, Harrington and Howe had no grasp of neoliberalism as a bipartisan project and how the Democrats were selling their longtime union worker base out in the name of Wall Street donors, with Harrington being so naive he once said that the Democratic Party was the labor party the Left had been looking for all along. Yeah, okay, whatever, just like the Dunkin' Donuts Center is the punk rock spot par excellence we have been looking for since Fort Thunder closed.
Second, and more importantly, they were a little full of themselves as typical members of the trendy Manhattan cocktail party class of intellectuals who were not in the tradition of Debs as much as the British Fabian Society, the proto-think tank made up of bourgeois intellectuals who used the Labour Party as a release valve for populist angst by creating a set of policies and positions that gave the working class a steady diet of welfare state protections in exchange for the rejection of revolutionary politics that would give a feast by nationalizing the means of production.
Another issue was their longtime anti-Communism, Howe was a former Trotskyite turned Labor Zionist while Harrington had infamously blown his chances of creating a political party to coincide with the social protests of the 1960's by showing up at the drafting of the Port Huron Statement, the manifesto of the radical Students for a Democratic Society, so to hector and lecture the anti-war movement about a totalitarian Stalinist boogeyman they would be giving comfort to by standing in solidarity with the Soviet-aligned North Vietnamese. Harrington was such a square it took him until well into the 1970's to come out against the war, something that takes real talent when you consider Noam Chomsky, Howard Zinn, and Walter Cronkite, all non-Communists, were anti-war before he was. What has passed for a Democratic Socialist party in this country for over three decades is a pale farce of what Debs was about and is essentially a Left-sounding caucus of the Democrats, not unlike the Progressive Democrats, and really should be called Democratic socialists of America, with a heavy emphasis on that D and a small letter s.
Now that we understand the reality of that mirage, consider the nature of the social contract that came into existence at the end of World War II.
Historians are now putting forward a new way of talking about the war that is extremely useful for these purposes. What happened was not a four year conflagration as much as a Second Thirty Years War, a European Civil War that began in 1917 with the Bolshevik revolution and ended in 1948 with the consolidation Eastern Bloc. On one side you had the Communists trying to initiate a worldwide revolution and on the other you had Fascism, the most vocal and militaristic form of reaction to what Gramsci called the revolution against capital. At first this anti-Communist effort was a series of isolated battles on various fronts. But when the stock market crashed and what was called "liberal" or alternatively "bourgeois" democracy stopped working effectively as a system to take care of its people, the entire world began to look for answers in the extreme Left of Communism or the extreme Right of Fascism. What followed over the next nineteen years was open combat between these two sides. And when the Nazis opened fronts in the East and West, the underground partisan resistance movement, led by Communists, fought back in a popular front with socialists and liberals.
But after the war, the Allied powers decided to turn their backs on Stalin and the country that had the most military and civilian losses of anyone. Part of this in Western Europe included the embrace of the Labour and Socialist Parties in the West by the ruling class while throwing the Communist partisans under the bus, who created a welfare state to stave off open class warfare, and part of it included the beginning of a Cold War.
America is a fascinating example of how this should have worked. At the time, the Communist Party was led by Earl Browder, who urged his membership to stay true to the no-strike clause during wartime and vote for FDR. With the end of the war, anticipating a peaceful co-existence with the Soviet Union that would have the two superpowers cooperating in a worldwide peace under the auspices of the United Nations, he dissolved the Party and created the Communist Political Association from the infrastructure, hoping to serve as a Left pressure group within the two party system. Part of the reason this happened was because he had no idea Franklin Roosevelt was about to drop dead and be replaced with the anti-Communist Harry Truman and part of it was because he was egotistical enough to think he actually was able to make an impact on social policy and governance.
However, this episode does serve as an insight. The American social contract was supposed to be based within the two party system and the CIO unions, organized by Communists, were meant to serve as the arbiters of the social safety net. There never was, under this vision, any place for a third party, particularly a Social Democratic one, instead the unions were meant to play that role. One can see another marker of this by looking at Dwight Eisenhower's rebuke of the anti-labor elements of the GOP, exemplified by Joseph McCarthy, Barry Goldwater, and Robert A. Taft.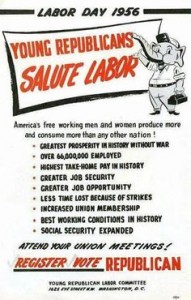 And in that sense, one should see Rhode Island as the perfect example of this. Is it corrupt? Yes. Is it prone to ethnic and sexual chauvinism? Yes. Are its unions that political punching bag politicians use and abuse except for when it serves their own ends? Yes. Is the ruling party that has been in majority for decades a mess? You bet.
But so is the social democratic system in Europe, especially Scandinavia!
Take a look at the writings of Stieg Larsson, creator of The Girl With the Dragon Tattoo. His vision is the reality that Bernie Sanders idealizes, a land of blatant misogyny and covert neo-Nazism that is falling apart. Or just look at Tony Blair, who turned the Labour Party into a corporate boot-licker after they had ousted the militant Trots from the party in the previous few decades. Or check out the amazing film CONCERNING VIOLENCE, now available on Netflix, which shows some of our blessed Scandinavians busting a labor union in a Liberian mine and kicking the organizers out of their company-owned homes, literally leaving them in the dark on the side of the road. Neoliberalism has turned the social democratic project into a shambling mess. In response, Europe is in the grip of a genuine Fascist renaissance that makes Trump look moderate.
Now consider the idea of a basic income. Daniel Zamora, author of a recent critique of Michel Foucault's embrace of neoliberalism, has this to say in an interview with Jacobin:
[M]y research on this issue led me to think about how over the past forty years we've gone from a politics aimed at combatting inequality, grounded in social security, to a politics aiming to combat poverty, increasingly organized around specific budget allocations and targeted populations.
But going from one objective to the other completely transforms the conception of social justice. Combatting inequalities (and seeking to reduce absolute disparities) is very different from combating poverty (and seeking to offer a minimum to the most disadvantaged). Carrying out this little revolution required years of work delegitimizing social security and the institutions of the working class…

[H]e not only challenged social security, he was also seduced by the alternative of the negative income tax proposed by Milton Friedman in that period. To his mind, the mechanisms of social assistance and social insurance, which he put on the same plane as the prison, the barracks, or the school, were indispensable institutions "for the exercise of power in modern societies."…

Given the many defects of the classical social security system, Foucault was interested in replacing it with a negative income tax. The idea is relatively simple: the state pays a benefit to anyone who finds themselves below a certain level of income. The goal is to arrange things so that without needing much administration, no one will find themselves below the minimum level… An important argument runs through his work and directly attracted Foucault's attention: in the spirit of Friedman, it draws a distinction between a policy that seeks equality (socialism) and a policy that simply aims to eliminate poverty without challenging disparities (liberalism).

For Stoléru, I'm quoting, "doctrines. . . can lead us either to a policy aiming to eliminate poverty, or to a policy seeking to limit the gap between rich and poor." That's what he calls "the frontier between absolute poverty and relative poverty." The first refers simply to an arbitrarily determined level (which the negative income tax addresses) and the other to overall disparities between individuals (which social security and the welfare state address).

In Stoléru's eyes, "the market economy is capable of assimilating actions to combat absolute poverty" but "it is incapable of digesting overly strong remedies against relative poverty." That's why, he argues, "I believe the distinction between absolute poverty and relative poverty is in fact the distinction between capitalism and socialism." So, what's at stake in moving from one to the other is a political issue: acceptance of capitalism as the dominant economic form, or not.

From that point of view, Foucault's barely masked enthusiasm for Stoléru's proposal was part of a larger movement that went along with the decline of the egalitarian philosophy of social security in favor of a very free-market-oriented fight against "poverty." In other words, and as surprising as it may seem, the fight against poverty, far from limiting the effects of neoliberal policies, has in reality militated for its political hegemony.

So it's not surprising to see the world's largest fortunes, like those of Bill Gates or George Soros, engaging in this fight against poverty even while supporting, without any apparent contradiction, the liberalization of public services, the destruction of all these mechanisms of wealth redistribution, and the "virtues" of neoliberalism.

Combatting poverty thus permits the inclusion of social questions on the political agenda without having to fight against inequality and the structural mechanisms that produce it. So this evolution has been part and parcel of neoliberalism. [Emphasis added]
Zamora elaborates in another interview:
First, it is impossible to create a generous version of universal basic income without cutting social spending. For example, consider a simple mathematical formulation for a basic income scheme: only 1,000 dollars for Americans 18 years old and above. Obviously, you can't choose "not to work" with only 1,000 dollars per month if you want a decent life for you and your family. So this would essentially becomes a government subsidy for low-wage industries. The reality is that a version of UBI in which you could choose not to work couldn't ever happen under capitalism, it would be too expensive.

Look, this basic scheme of 1,000 dollars would cost more than 2.7 trillion dollars a year. The total federal budget for social security, Medicaid, Medicare and all the means-tested programs is about 2.3 trillion dollars. So if you supply a universal basic income by replacing all those programs, you get a massive privatization of the public good. All the money that was hitherto socialized to give social rights will be therefore privatized.

We give people money rather than rights because, of course, as Milton Friedman would say, 'they know how to use their money better than the state.' This demise of the idea of public good itself or of socialized wealth for the common good cannot, in my view, ever lead to social progress. Obviously we could say that we should finance UBI by new, very high taxes on income, so we could have both social security and basic income. But the amount of income tax increase needed to finance this scheme would be very high. So why not use that money for free health care, free education, and public housing instead? Rather than expanding the market – rather than giving more people the "chance" to participate in it with basic income – let's instead get some of the most important things in our lives out of the market.

Second, as Seth Ackerman has pointed out, UBI does not address the problem of the unequal distribution of work. Indeed, unemployment or "Mcjobs" are not randomly assigned but are distributed in a very unequal way. For argument's sake, let's say that we did have a UBI that could enable you to choose not to work and still have a decent quality of life at the same time (which is very unlikely). This could be a game-changer but it still assumes that those who are unemployed actually don't want to work or would be happy not to work. And what if they do want to work? Why would it be fair that some won't be able to work and others will? The idea that we should address the question of unemployment by reducing the demand for work rather than working for full employment doesn't offer a solution to why people want to work. It presupposes that the despair the unemployed feel is just false consciousness that we could mitigate by promoting non-work. But I think it's a weak explanation of what is at stake with the question of work. As Seth Ackerman argues, "so long as social reproduction requires alienated work, there will always be this social demand for the equal liability of all to work, and an uneasy consciousness of it among those who could work but who, for whatever reason, don't."

That is why I think full employment and reducing work-time are still, in my view, the most important objectives for any left politics. Collectively reducing work time is both politically and socially more preferable than creating a segment of citizens who are out of work with heavy consequences for the workers. You can immediately see how this idea would foster divisions within the working class (and how it has already done this over the last thirty years). [Emphasis added]
The question then becomes simple, why has this happened? The answer is simpler, because Social Democracy is not Communism. In the name of a bourgeois notion of electoral democracy, capital is allowed to ransack the society and bankers are able to get away with a good deal. Whatever the flaws of Communism, and there are many, it is an effort that criminalizes this behavior and places genuine emphasis on the well being of the people. If Lloyd Blankfein of Goldman Sachs were in a Communist country and committed the crimes he did to cause the 2008 crash, I am not saying he would have been shot for that (although he would have been), I am saying he would have never dared even thinking of that heist because of the likelihood of the death penalty he would face. When you read in the newspapers about a Chinese citizen being shot, if you look behind the headlines you understand the New York Times does not care about "human rights abuses", they care about the financial firms that advertise with them! As Chris Hedges pointed about his former employer several years ago, the burden of guilt for the 2008 crash should be placed at the feet of the Times, they could have easily gone to the Bronx, Brooklyn, and Harlem to find black and brown people who were being targeted by predatory lenders that were gaming the system and causing the housing bubble. But that would have been quite inconvenient for their precious advertisers.
As a corollary of this thought experiment, let's really interrogate the whole idea of how awesome the Scandinavians are about banking. This talking point is based around the fact that Iceland prosecuted their bankers for the 2008 crash and we should too.
In theory, that is a statement that is common sense. But the converse of this talking point, why did they need to do so in the first place, suggests a pretty dire diagnosis of their Social Democratic party. Now it is true that in 2000, when the financial sector in Iceland was deregulated, the country was under the leadership of Davíð Oddsson, a Prime Minister from the neoliberal Independence Party that was in charge from 1991 to 2004 and who later went on to chair the board of governors at the Central Bank of Iceland from 2005-2009, two positions that tilled the soil for the seeds of the crash. And from late 2004 until February 2009, just after the crash, the successive Prime Ministers, Halldór Ásgrímsson and Geir Haarde, were neoliberals. But the fact that Iceland's political system was able to allow such a blatant and lunatic set of political positions is the problem that has always existed in Social Democratic societies, there is always wiggle room for this kind of greed. The only reason Iceland prosecuted their bankers was because of massive protests in the streets from the people calling for blood. These protests led to the election of Prime Minister Jóhanna Sigurðardóttir, who only came to power because of an alliance with feminist and communist groups called Social Democratic Alliance. And even then, after four years, the neoliberal Progressive Party returned to power under Sigmundur Davíð Gunnlaugsson. The Progressive Party in turn is part of a neoliberal international grouping, the Liberal International, whose membership includes the Colombian Social Party of National Unity, currently in leadership, which is being cited for US-backed human rights abuses that are causing conditions akin to a civil war. That Scandinavians would find any kind of unity with such agents of imperialism and racism is the ultimate and damning failure of their hallowed state system.
The recent financial pitfalls of Rhode Island, particularly the pension heist operated by Gina Raimondo and the Democrats, are shot-for-shot equivalents to the Social Democratic counterparts in Europe. Meanwhile, the socialist revolution everyone should be hot and bothered over is going on in the Global South. Venezuela, Cuba, Iran, Bolivia, Brazil, and South Africa, aligned with that boogeyman Vladimir Putin in Russia, are trying to build a real alternative to capitalism, a genuine social democracy that is able to stand up to imperialism. China is asserting itself while rebuilding its political culture around Marxism Leninism and sending funding to these countries. And what does Bernie the Great Helmsman say? Remember when he called Chavez a dictator and voted for sanctions on Cuba?
What Bernie Sanders does is not revolutionary, it is reactionary. Like Jesse Jackson, Dennis Kucinich, or Howard Dean, he gets the people who participate in direct action politics, protesters and rabble-rousers, to get hyped up behind a great-sounding candidate who the banking class would never allow near the levers of power. Then, after a year of the masses getting hyped up over the candidate, the convention comes and they gracefully endorse the real contender. Meanwhile, the ACTUAL socialist party in this country, the Green Party, has barely made the news cycle. When you understand that the banks rule the country no matter what, the different faces in the White House become meaningless. Bruce Dixon of Black Agenda Radio calls this the "sheep dog" candidacy because Sanders has diverted attention and corralled the rabble.
Want further proof? Jill Stein recently has been telling the press that her campaign has tried to build a coalition with Sanders to no avail. Meanwhile, Trump, who we know had an all-important telephone call with Bill Clinton prior to announcing his candidacy wherein Bubba told him that the Donald might have a genuine shot, is so awful he makes Hillary Clinton seem like the candidate we must now vote for to stave off the apocalypse.
The irony, of course, is that the Clintons are soaked in gallons of blood caused by racist incitement in the Global South. The idea that she is somehow "better" than Trump for any minority population is vomitous and laughable at the same time. Her actions as Secretary of State alone would have resulted in her being hung at the Nuremburg war crimes trials and have the entire Democratic Party, including Langevin, Cicilline, Whitehouse, and especially Reed, spending the rest of their lives in a prison cell they instead would prefer to put Edward Snowden into. When Bill Clinton was in office, she was a major collaborator with a series of war crimes so outrageous that Hitler would beg for moderation. Just read Diana Johnstone's Queen of Chaos for more details.
I honestly do not have much hope for this "movement" after the Berning down of this candidacy. The logic of Marxism that informs both Social Democrats and Communists is one which sees capitalism as a series of deepening contradictions that leads to eventual collapse. This new President Clinton could very well get us into a war with Iran or even, after all these decades, Russia. The events in Ukraine and Syria are an augury of a wider conflict. Wars happen when the capitalist system needs a recovery and so it gets a boost from the weapons sector. Just look at World War II and Vietnam, both of them were able to save the American economy from decline. America needs a big old-fashioned war to pull us out of this mess.
At this point, the only hope I see for Sanders is to become Jill Stein's Vice President. The current media narrative is one showing he will have a new burst of energy in these coming primaries, but this arc is an old and tired one that follows the sheep dog arc precisely. He will continue to lose the important black vote in the south, the most Left constituency of the wider party, and labor will endorse Clinton because Sanders failed to build a constituency in these key demographics prior to announcing his candidacy, which is pretty awful for someone who calls himself a socialist. If he fails to build a united front from below with the Greens, which I anticipate he will, then it is all over.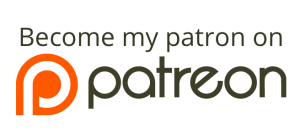 You do realize Rhode Island is a social democracy, right?

,