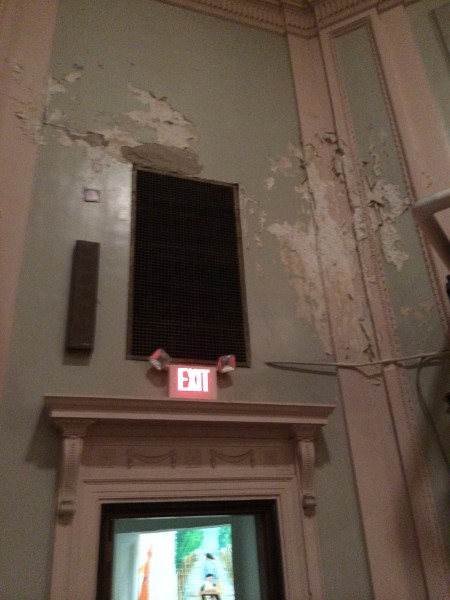 6,864 young Rhode Islanders attended public school buildings that the state declared, "need major renovations or need to be replaced," according to a 2013 RIDE report that detailed more than $1.7 billion in repairs needed to ensure the health and safety of students, teachers, staff and families in all Rhode Island public schools. In Pawtucket alone, over $108 million in repairs were needed – two years ago.
In response to advocacy around this ongoing shame, Governor Raimondo proposed a $20 million budget line item dedicated to school repairs, the first time the state has invested any money in school construction since 2011. The cash she's offering is embarrassing and disrespectful to thousands of families. The renovation of a single Providence public middle school in a very politically connected district- Mt. Hope – in 2009 cost $35 million. For comparison, the amount of money the state has authorized for a new parking garage in downtown Providence is $40 million.
As part of the 2013 report, the RIDE team asked district officials to self rank schools on a 1-4 scale, 1 being well-maintained, 4 being in serious need of repair. The school ratings are "a self-reported number that each district assigns based on their general condition." 14 schools designated  themselves "Level 4." For a sobering perspective, Gilbert Stuart Middle School, seen with the crumbling ceiling, was ranked a 2 in Providence.
An additional outrage is that five of these 14 "Level 4" schools were enrolled beyond their intended student capacity, with three schools in Providence and Central Falls being overcrowded by more than 100 students.
Which schools were in the most need according to these district reported metrics? How many students attend these schools? Here's the infamous list.
1. East Providence High School – East Providence (1952), Enrollment: 1676, Capacity: 2000 (EP is the largest high school in Rhode Island)
2. Mt Pleasant High School – Providence (1938), Enrollment: 978, Capacity: 1315
3.  Central Falls High School- Central Falls (1927), Enrollment: 848, Capacity: 693 (You read those numbers correctly)
4. Barrington Middle School- Barrington (1967) Enrollment: 777, Capacity: 950
5. Dr Harry Halliwell Memorial School -North Smithfield (1957), Enrollment: 359, Capacity: 330
6. Reservoir Avenue School – Providence (1971), Enrollment: 306, Capacity: 149 (You read those numbers correctly)
7. Wilbur and McMahon Schools- Little Compton (1929), Enrollment: 293, Capacity: 350
8. Cowden Street School– Central Falls (Unreported), Enrollment: 282, Capacity: 180 (You read those numbers correctly)
9. Sowans Elementary- Barrington (1963) Enrollment: 275, Capacity: 350
10. Cranston-Calvert School -Newport (1876) Enrollment: 253, Capacity: 374
11. William J Underwood School – Newport (1962), Enrollment: 247, Capacity: 240
12. Dr. M. H. Sullivan – Newport (1955), Enrollment: 222, Capacity: 416
13. James R D Oldham School- East Providence (1952), Enrollment: 177, Capacity: 416
14. Coggeshall School – Newport (1897), Enrollment: 171, Capacity: 242
According to the RIDE report, Level 4 schools "need major renovations or need to be replaced. The condition of facilities given a rating of 4 is of particular concern because it may hinder the ability to deliver a 21st Century education." Rhode Island can do so much better for the 6864 young people and families who are part of these schools.
6,864 RI students attend decrepit school buildings

,