The Rhode Island ACLU chapter is calling on state leaders to "examine policies, practices and procedures that lead to discriminatory treatment of black Rhode Islanders" and issued a new report that the civil liberties activists say "offers a brief but systematic examination of racial disparities in Rhode Island, and how those interconnected disparities can lead to a lifetime of unequal treatment."
You can read the full report here. It examines school discipline, juvenile justice, traffic stops, arrests and prison representation.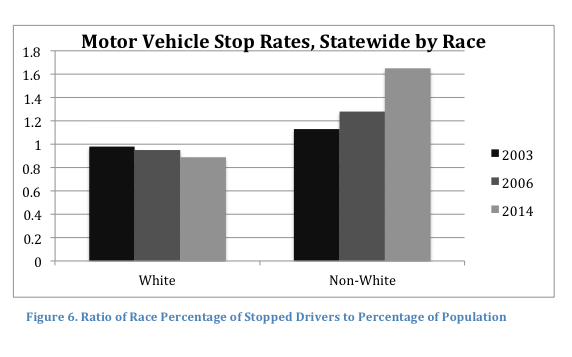 "This report demonstrates what many have known for a long time to be true: life in Rhode Island is different, depending on your skin color," said Hillary Davis, an ACLU policy associate. "It is our hope that this report will no longer allow these experiences to be discounted and ignored, and that Rhode Island's leaders will come together to address the problem of racial disparities in Rhode Island before a larger crisis occurs."
The report calls for six actions to be taken:
Passage by the General Assembly of legislation limiting the use of out-of-school suspensions and requiring school districts to look seriously at their racial disparities in meting out discipline and coming up with concrete ways to reduce them.
Passage by the General Assembly of strong, comprehensive racial profiling legislation that seriously confronts racial disparities in traffic stops and searches.
Passage of legislation – already enacted in a few states – to require the preparation of "racial impact statements" prior to the consideration of bills that would have the effect of increasing the prison population.
An acknowledgement by state and municipal leaders that racial disparities are a significant problem that demands action.
A commitment by state and municipal leaders, and particularly law enforcement personnel, to regularly examine policies, practices and procedures which appear to have a disparate impact on racial minorities, and to develop ways to minimize those disparities.
The annual adoption of specific and measurable plans of action by school districts and law enforcement agencies to address the racial disparities documented in this report and in other data.
ACLU calls on state leaders to address racial disparities

,