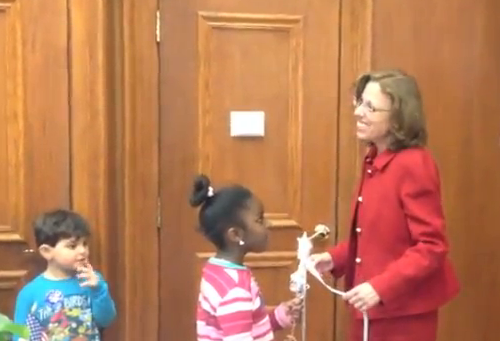 Legislative leaders offered a glimpse into their plans to address institutional racism in Rhode Island this session when commenting on a new ACLU report that shows often wide racial disparities in school discipline, traffic stops, arrests and prison populations – "the school-to-prison pipeline," according to the report.
"The troubling issues raised in the ACLU report point out how far our society has yet to go before we achieve true equity," said Senate President Teresa Paiva Weed, noting statewide all-day kindergarten in particular and education in general are policy areas where the Senate would seek reform to address systemic racial disparities in Rhode Island.
"The Senate's focus on education acknowledges the outcome gaps that exist in our state, and we will continue to prioritize making investments that will help eliminate disparities," she said. "An important priority for the Senate this session is legislation to promote full day kindergarten in all Rhode Island school districts. Full day kindergarten is a proven, effective method to help close achievement gaps. More work needs to be done on many fronts, and the Senate remains committed to working towards the ideal of true equity for all Rhode Islanders."
House Speaker Nick Mattiello was less specific.
"I have not yet had the opportunity to review the ACLU report, but the House of Representatives will always work to enact policies that treat all persons fairly, equally and without discrimination," he said. "In particular, I will continue to work with the members of the Legislative Black and Latino Caucus on racial equality issues in our state.  I look forward to reviewing any legislation they may propose, as well as other bills on these issues that may come before the House."
The House passed an ACLU-supported bill in 2012 that prevents schools from suspending students for chronic absenteeism, said spokesman Larry Berman. School suspensions is an issue raised in the new ACLU report. Last session, that bill's sponsor Providence Rep. Grace Diaz said there is more work to be done in this area in particular.
"We're still working to address racial disparities in overall suspensions and attendance rates, especially in our city schools," Diaz said in a press release. "We need to continue to be creative in how we address problems in education while stamping out racial bias."
Also last session, a bill that would authorize the Department of Education to analyze school suspensions for racial implications was held for further study. It reads, "The commissioner shall develop a method to analyze local school system discipline data collected in accordance with §16-60-4(21) to determine whether the discipline imposed has a disproportionate impact on students based on race or ethnicity. If such a racial or ethnic disparity is found, the local school system shall prepare and present to the department a plan to reduce that disparity."
Paiva Weed said last session a bill to address racial profiling in traffic stops passed in the Senate. It was called the Comprehensive Community-Police Relationship Act. "Unfortunately, the bill died without a hearing in the House," according the the ACLU.
"Senators Harold Metts and Juan Pichardo have been particularly diligent leaders in the Senate in examining equity issues in schools, law enforcement, corrections, and economic development," Paiva Weed said. "We will continue to pursue their worthwhile efforts, such as the annual Education Summit which Senator Pichardo hosts, and winning enactment of the racial profiling prevention legislation which Senator Metts drafted and the Senate passed last session."