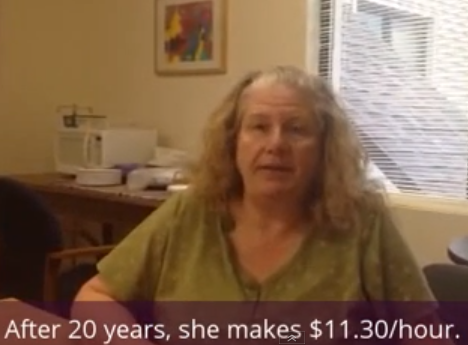 Sue Sulham has been caring for developmentally disabled people in the Blackstone Valley for more than 20 years. She makes just $11.20 an hour.
"I don't want to live beyond my means," Sulham said. "I just want to be able to make a payment on time, to go grocery shopping and maybe luncheon meat would be nice … instead of peanut butter and jelly. I'd be able to live better if I could have $15."
It can be too easy to forget that real Rhode Islanders have to live on the low wages that some of us only know about in abstract political terms. But Sulham now has a way to tell us about her plight.
SEIU 1199NE, the union that represents Sulham and about 4,000 other health care workers in Rhode Island, is producing video testimonials of local workers who are struggling to get by on their current incomes. Sulham's is the first:
The videos coincide with state leaders considering making huge cuts to the state Medicaid program. "Our view is that Medicaid investments should be directed towards high-quality frontline care and towards ensuring that no health care worker is living in poverty," said SEIU 1199NE Executive Vice-President Patrick J. Quinn. "It's time that our society shows that we truly value the work that our caregivers do each day."