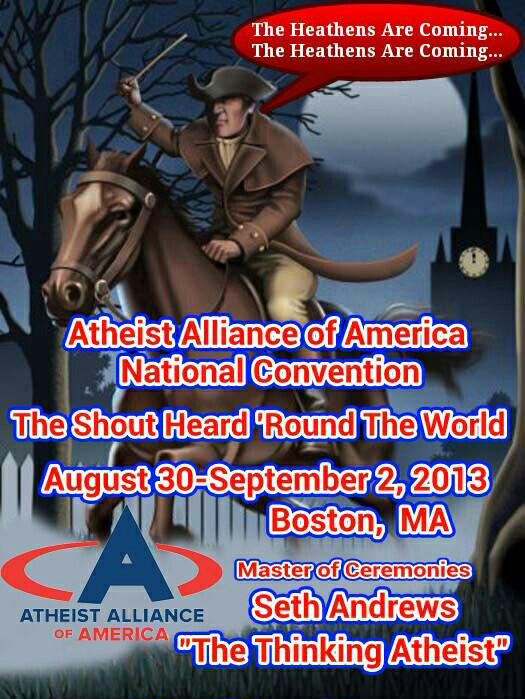 People might be surprised to learn that just as there are many different ways to believe in all the different religions and gods currently in vogue, there are also many different ways to not believe. There are atheists, new atheists, confrontationists, accomodationists, Humanists, secular humanists, religious humanists, Ethical Culturalists, freethinkers, Brights, naturalists, strong and weak agnostics and many, many more. Every major religion can count among its devotees those who doubt or plainly disbelieve the teachings of their church, synagog or mosque. One poll suggests that 15% of Catholics don't believe in God, but most of them don't identify as atheists, they call themselves Catholics.
There are many different organizations that seek to cater to the concerns of nonbelievers, just as there are many different organizations (we call them churches or religions) that cater to believers. Those looking for simple answers and easy labels will be frustrated.
This weekend in Boston one such group, the Atheist Alliance of America (AAA), will be holding their annual convention just outside Boston at the Westin Waltham Boston Hotel. First formed in 1991 as the Atheist alliance, the group quickly expanded, becoming the Atheist Alliance International (AAI). In 2010 and 2011 the AAA and the AAI became two separate organizations. The AAI is positioning itself as a group to deal with international concerns while the AAA focuses its efforts here in the United States.
The convention in Waltham/Boston starts Friday night and continues throughout the labor day weekend. Sunday night's speaker will be "renowned scientist, esteemed researcher and noted author" Dr. Steven Pinker of Harvard University. Another notable guest will be Rebecca Vitsmun, who, when in the aftermath of a tornado that wrecked her home was asked by Wolf Blitzer live on CNN if she thanked the Lord for her survival said, "I'm actually an atheist."
Other guest include Rebecca Hale, president of the American Humanist Association, Maryam Namazie, and Iranian born atheist and feminist, Paula S Apsell, executive producer of NOVA for PBS, and many more guests local, national and international. A full list of speakers is available on the conventions website.
I'll be attending the convention and will be recording and writing about the various speakers and programs thanks to AAA President Chuck VonDerAhe. It promises to be an interesting weekend.
Atheists convene in Boston this Labor Day weekend

,