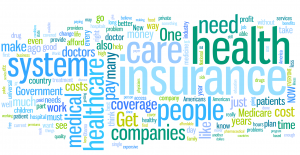 It's 7:00 in the evening. You, a Rhode Island resident, are at the mall in Attleboro. You're out to dinner in Seekonk. You're on vacation on the Cape. Suddenly, your teen-age child collapses, unconscious.
What do you do?
Do you call an ambulance? The child is unresponsive. His eyes are rolled back in their sockets. He appears to be breathing shallowly. I repeat: what do you do?
Do you call 911? Or do you try to assess whether the situation is dangerous, whether you should try to take him to the hospital yourself, or whether you should just take him home and call a doctor in the morning? Which do you choose? And no, you're not a doctor, and no, you don't even play one on TV.
Some would suggest we should choose the latter route. Or, if we decide to go the ambulance route, we should call several providers, trying to see who has the best price, then see if we can haggle it downward a bit. Or maybe ask if they'll take a chicken as a discount. In the meantime, your child is still unconscious. But being the hyper-rational homo economicus that you are, you pull out the copy of the local yellow pages you always carry in case of situations like this, or you use your smart phone to search the web for the local services, and then you coolly work the market and see what sort of price you can get.
OK, you've done that, only to find that the best deal you can get is $2,999.99. Now, you have insurance, but it will only cover 80% of the charge after the deductible is satisfied, and only if the situation is deemed an emergency. Well, your kid is unconscious; does that, in and of itself constitute an emergency? Are you a doctor? No. Do you have a clue whether it's truly an emergency? No. And, 20% of that ambulance bill still comes to $599.98, assuming that everything goes as planned, that your deductible has been met, and the insurance will actually cover the 80%.
So what do you do? Does this change your behavior?
And remember: you get your insurance through your employer, so it's not like you can negotiate your own deal with the insurance company. And that's a good thing.
And what if your checkbook balance is somewhere south of $800 at the moment, and you still have to make the car payment? That $599 will take a pretty good bite out of that. If you're making RI median, your next check will come in somewhere between $1200 & $1300 (depending on deductions, etc). And remember, this is just the ambulance. If you do go to the ER, there will be a plethora of other charges: for tests, x-rays, CAT scans/MRIs, physician services, and so on.
One thing that's important to remember is that something like an ambulance, or an ER, has to be staffed and prepared at all times. An ER will probably use its facilities on a fairly constant basis, so there isn't a lot of down time. That is not necessarily true for an ambulance. Maintaining and staffing that ambulance 24/7 costs money. Now, if you depend on paying for the ambulance by billing the people who use it, a significant part of the bill will be for maintaining that service when it's not in use. So that means the price has to be a lot higher than just the cost of that particular run. A lot higher.
Now, we could subsidize the ambulance service as a common good; but that means taxes have to go up to pay for that. Since people who decide the level of taxes probably don't have to worry about a couple of grand if they need an ambulance, they won't see the point of having to pay taxes all the time to support an ambulance service that they may never need. Let the people who need it pay for it. Sounds ever-so-sensible. So the poor schnooks who do have to worry about having to pay a couple of grand for an ambulance will pay for all that down time out of their pocket.
But that's fair, isn't it? If you make the bad choice and get sick, well, hey, you made that choice. No one put a gun to your head and made your kid pass lose consciousness.
So you go that route. You kid goes to the ER, gets half-a-dozen tests, and, thank the Lord, appears to be fine. So you all go about your business for another month or so. And then the bills (note the plural: bills) start to come in. The first is for the ER, and that's around $4,500. But your insurance works as planned, so your only responsible for $900 (which is 20% of the total). Then there are the bills for the MRI, the blood tests, physician services, yadda yadda yadda. These clock in at another $1,500, so you only have to pay $300. So we're over a grand already.
Then the ambulance bill comes. Oh, that was out of network. So sorry! You're not covered!
So now you're faced with the whole $2,999.99.
And the whole episode cost something like $9000 (Well, technically, $8,999.99, using the figures I've presented).
Now, how would you have acted when your kid collapsed? Would you have rationally balanced a potential bill of about $4,300 against some unknown ailment with unknowable consequences? Would you have considered the hole this was going to blow in your budget and said, "well, I have no idea what's wrong with my kid, but maybe it's not a big deal?" Or do you go the ambulance/ER route with no clue what it's going to cost?
Would you have done anything differently?