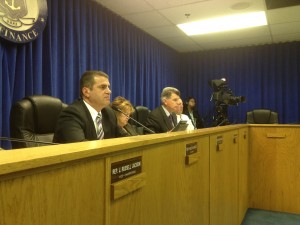 It's been called the year of restoration, in part because this year's proposed budget will restore cuts made last year to programs for the developmentally disabled and low-income dental insurance.
The "education funding formula will be fully funded for the second straight year," House Finance Committee Chairman Helio Melo said, noting that $22 million is appropriated in the proposal.
The House's proposal is $156.4 million more than the governor's proposal and almost $400 million more than last year's enacted budget.
Increases will be paid for by Chafee's proposed luxury clothing tax, but instead of kicking in at articles that cost more than $175 as the governor proposed the House budget calls for taxing items that cost more than $250. This tax is expected to raise about $5.9 million. The governor's proposal would have raised more than $11 million. A $.04 per pack cigarette tax is also called for and would raise an estimated $1.8 million.
Melo there will be $9.6 million for the developmentally disabled programs in this year's budget, about half of which will come from the federal government in matching funds. Last year, $24 million was cut which resulted in some program cuts and pay cuts for low wage workers.