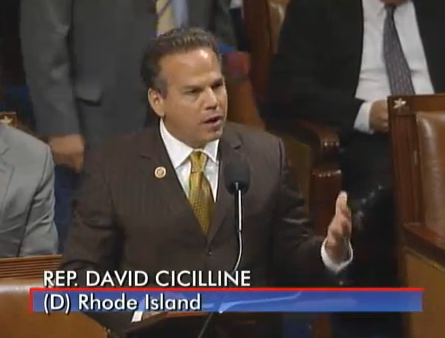 Congressman David Cicilline told President Barack Obama to increase tenfold the number of Syrian refugees the United States accepts – from 10,000 to 100,000.
"We've always been a beacon to the rest of the world," Cicilline told RI Future, in explaining why he implored the president to do more. "It speaks to our character as a nation. We need to regain that moral high ground."
Earlier this month the Obama Administration announced it would increase the number of Syrian refugees the US takes in this from about 1,500 to 10,000. Subsequently, Cicilline wrote a letter to the president saying the US should take in 100,000 Syrian refugees.
"Other countries look to the United States to lead when it comes to refugee resettlement, and so it is absolutely critical that the U.S. lead by example," reads the letter. "The U.S. should use its considerable global influence to encourage other nations, including within the European Union, to accept additional refugees and increase the resources available to support them."
More than 70 members of Congress co-signed the letter to Obama, including Joe Kennedy, of Massachusetts. Congressman Jim Langevin did not sign the letter. Langevin spokeswoman Meg Geoghegan said, "While he shares Congressman Cicilline's belief that the U.S. should do far more for these refugees, he does not feel comfortable prescribing that specific number until we have assurances that the resources exist to actually process that many people in a timely way without risking any potential impact to American security."
Langevin told RI Future in a prepared statement: "We are facing one of the worst humanitarian crises in history, and our country and others around the world must do more for those who have faced unimaginable suffering, leaving their homes behind in fear for their families. The United States must significantly increase the number of refugees we take, while ensuring adequate resources to protect the security of our citizens."
Cicilline said his request to accept 100,000 Syrian refugees is based on the recommendation of the Refugee Council USA, a coalition of 20 of the leading refugee aid organizations in this country. Refugee Council USA also recommends the United States increase the overall number of refugees it takes in this year from 100,000 to 200,000. Last year, the US accepted about 70,000 refugees but only 1,500 from Syria, which has seen an exodus of more than 4 million citizens since the start of a bloody civil war four years ago.
Cicilline's letter points out that accepting 100,000 Syrian refugees would only increase the US population by "less than a quarter of one percent" while "Lebanon's population by contrast has grown 25% with the influx of refugees at its borders." In a reference to the viral video of a Syrian boy who died while fleeing his country, the letter continues, "How can we tell little Aylan's family that we simply can't manage to welcome them, that it would be too dangerous or take jobs away. Surely we can do better."
Cicilline visited Syrian refugee camps on a recent trip to Jordan, which helped cement in his mind the need for the United States to be a leader in responding to the crisis. In a conversation with a Jordanian man, he explained that there is some political resistance to accepting Syrian refugees in the United States. The Jordanian man told him, "This wasn't a debate. These are our brothers and sisters fleeing war and we welcomed them," according to the congressman.
Cicilline also said taking in refugees is a "sensible economic decision," saying "in 2013 69 percent of all refugees were self-sufficient after 180 days. By comparison, refugees living in camps around the world are often relying on international assistance for a very long time – 10, 15, 20 years – and in most cases the United States is paying for most of that."
Cicilline spoke earlier this week in Washington at a press conference about the Syrian refugee crisis.