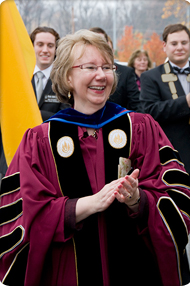 The announcement that Sen. Paul Jabour will ask Attorney General Kilmartin to investigate the appointment to the Rhode Island College Foundation of Richard Culatta, who hails from the neoliberal Obama Department of Education, as an innovation officer to serve as a cabinet official is just the latest eyebrow raised in this matter. The idea of having a public official sequestered away at a charitable foundation with a hefty allowance and almost no oversight has struck many as odd.
But one question that has not been asked, and which should be, is whether this issue was the real cause of the public ouster of RIC President Nancy Carriuolo several months ago. The President, who was subjected to a negative publicity blitz following the publication of a letter signed by several current and former members of the College community with ties to the administration of President Emeritus John Nazarian, announced she would step down after May 2016 this past December.
Yet there is something here that, for those who understood the situation intimately, seems amiss. Sources indicate that the President knew early on that she was facing an uphill battle with key players on Smith Hill and that, try as she might, she was unable to sway these background personages. Indeed, the public behavior of people like Dr. Mark Motte and Jane Fusco was considered an augury of a larger party whose identities were never revealed but could be guessed due to the sound of silence.
For instance, President Emeritus Nazarian, who spent the better part of his life in the College community and who always worked to boost its reputation, was strangely mum during the entire Carriuolo ouster, a news story that reached international headlines and certainly impacted its reputation. Another voice not heard during the entire affair was Governor Raimondo, who might have provided a lifesaving boost to the female executive of the College as the first woman to sit in the executive office on Smith Hill. And just as Dr. Carriuolo is neutralized, an out-of-the-ordinary state official with problematic financing appears from nowhere?
Sources have indicated that there were issues arising with Dr. Carriuolo being involved with affairs on campus that some would call domineering. But if the individual whose major task is to fund raise for the College and its affiliated charities has to be dealing with something like this recent move, why not be on guard? One thing that can be said with some certainty is that, as someone who is connected to Rhode Island by marriage rather than upbringing and hails from New York, she is not by nature attenuated to the crony culture of Smith Hill and the type of back room deals that someone like Dr. Nazarian came to naturally.
This is all speculation at this point; Dr. Carriuolo has for the entirety of the affair surrounding her ouster given no comment to the press and it is doubtful other parties might come forward from the other side of this discussion. But Sen. Jabour and Attorney General Kilmartin might be able to loosen some tongues.